Save 20% on This High-Quality Men's Grooming Kit
Use Costa Rican botanicals to soothe your sensitive skin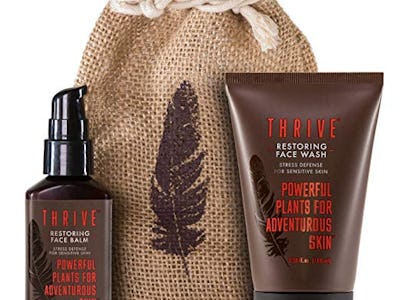 Amazon
Guys don't usually make a big deal out of having sensitive skin, but help is available whether you own up to sensitive skin or not. There's no reason to live with razor burn, blemishes, or dry skin when the right products are available. You need to check out Thrive Natural Care.
The Restoring Skin Care Kit for Men with Sensitive Skin comes with two products designed to help you reduce skin irritation and revitalize your skin so it looks and feels healthier. One is a face cleanser and the other a face moisturizer.
Thrive Natural Care uses only plant-based ingredients. The main ingredients of the cleanser and moisturizer are both derived from native plants grown in Costa Rica. Indigenous people in the area have used these plants to care for and heal skin for centuries.
One plant Thrive uses is the juanilama herb, which has anti-fungal, anti-bacterial and anti-oxidant properties. It helps with problems such as ingrown hairs, razor burn, acne, and the effects of pollution. The other plant is the fierrillo vine, which grows in the rain forest and has antibacterial and anti-inflammatory properties and helps skin to heal.
As completely plant-based products, there's no added fragrance and the subtle scent is from the plants themselves. The products are vegan-safe, GMO-free, and free of other additives that can be irritating to your skin.
In addition to being good for your skin, these products do good for the world. Thrive pays rural Costa Rican farmers to grow the plants, and they're helping to restore degraded land in Central America and promoting biodiversity.
If you're not happy with the product, Thrive offers a money-back guarantee.
In addition to the two-piece skin restoring kit, Thrive also offers larger kits with additional products, like shaving oil and face scrub.