Save $40 on an Instant Pot on Prime Day
It's like getting 9 appliances for $90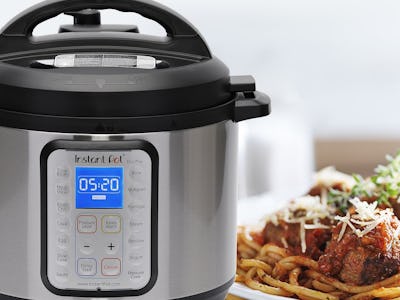 Amazon
If you want an Instant Pot or were thinking about upgrading to a bigger model, the Instant Pot Duo Plus multicooker is on sale for almost 30 percent off on Prime Day.
Instant Pot is the top-selling brand of multicookers, and the Duo Plus is another step forward in the convenience Instant Pot is famous for. The Duo Plus can replace up to nine kitchen appliances, giving you a pressure cooker, slow cooker, rice cooker, steamer, yogurt maker, sterilizer, and more all in one pot. Instant Pot has introduced three new programs on the Duo Plus, allowing you to make the perfect cake and eggs and to sterilize baby bottles and do certain kinds of canning.
With the Instant Pot, you can cook dinner quickly, up to 70 percent faster than other methods. Because foods cook in a totally sealed environment, they retain flavors and nutrition, so you'll eat healthier too. Options such as delayed start and timed cooking allow you to press a few buttons and go about your life while the Instant Pot is cooking.
This Duo Plus is a six-quart model and comes with a stainless steel inner pot, a sealing ring, steam rack, rice pot, and lid holder. The accessories are dishwasher safe.
With the simple push-button controls, everything cooks perfectly with no guessing. But if you want to expand your cooking repertoire, check out the Alexa skill and Instant Pot app that includes more than 1,000 recipes, guided cooking tutorials, and videos to get you started. You can also count on Instant Pot customer service for tips and help on everything from getting started to caring for your new appliance.