The One Item You Need to Save You a Ton of Money Each Month
It happens, you get sticker shock from opening up your energy bill. Take the pain out of heating or cooling your home with these Prime Day smart thermostat deals.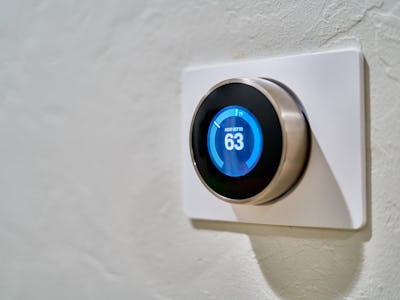 Unsplash / Dan LeFebvre
One of the biggest expenses people face outside of their rent or mortgage payment is in home utilities. Whether you have a home that isn't energy efficient or a large amount of square footage that needs to be heated or cooled, your energy expenses can lead to serious sticker shock. With Prime Day around the corner on Amazon, take advantage and make your wallet happy for the long-term with these smart thermostats.
Honeywell Home Wi-Fi Smart Color Programmable Thermostat
One of the biggest benefits of smart thermostats is that you can program them so you never come home to a sweltering or freezing house. This Honeywell device is compatible with Alexa, Google Home and even third-party automation apps like IFTTT so you can manage it remotely from your smartphone. The touchscreen display means that using your thermostat is a breeze and you can even optimize it to correspond with your utility's smart rate pricing to keep your expenses low. Best of all, during Amazon's Prime Day sale, the Honeywell thermostat is on sale for 33% less than the standard price.
Emerson Sensi Wi-Fi Smart Thermostat
How do you know if the appliance or product you're buying is truly energy efficient? You look for the Energy Star rating. The Emerson Sensi smart thermostat is Energy Star certified and was rated one of the most energy-efficient products by USA Today. The programmable device allows for a flexible plan that means you can adjust settings throughout the week rather than stick to a static heating or cooling plan for every day of the week. Setup is simple to do, as it's compatible with wifi systems, Alexa, and most standard HVAC systems. And you can even get a usage report so you can fine-tune your programming to compliment your actual heating and cooling needs. And during this season's Prime Day, you can save 27% off the normal purchase price.
ecobee4 Smart Thermostat with Built-In Alexa
Smart thermostats should be based around easy integration, which is why a common theme is Alexa compatibility. The ecobee4 is a very popular smart thermostat that's well rated across the web and on Amazon. During Prime Day next week, you can save 20% off the normal list price. The device comes with room sensors that allow you to automatically adjust the temperature for optimal comfort based on the room size and occupants. The smart thermostat is easy to install and integrates easily with standard home HVAC systems. And even if you don't use Alexa, the system works with third-party apps like IFTTT as well as Apple HomeKit and Samsung Smart Things.
Nest T3008US Learning 3rd Generation Thermostat
Nest is probably one of the most popular smart home brands on the market today. And this Prime Day, you can make their third generation smart thermostat yours for 14% off and with complimentary Amazon tech support included. While you can create your own programmable schedule, the Nest learning thermostat takes note of when you turn up or down the temperature, and automatically develops a schedule based on previous behaviors. This device integrates with other smart home ecosystems such as the Amazon Echo and is easy to install in under an hour.