This Bucket Top Oscillating Fan With Mister Lets You Beat the Summer Heat
The Arctic Cove works indoors and out, with any standard five-gallon bucket.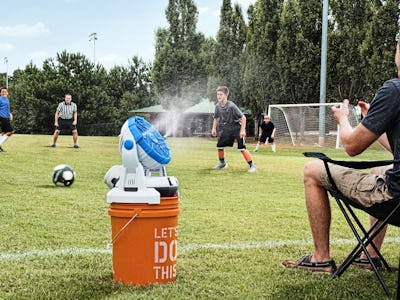 Arctic Cove
Being outdoors when it's unnaturally hot can lead to serious health issues. Soaring temperatures can keep your body's natural cooling system from doing its job, which puts you at risk for a heat-related illness called hyperthermia. Not to mention the general discomfort that comes from sweltering heat and unbearable humidity. Luckily, there are cost-effective ways to stay cool and enjoy yourself outdoors, even on the hottest days. Specifically, the Arctic Cove oscillating fan with mister can chill your summertime woes.
With the Arctic Cove oscillating fan with mister, all you need is a 5-gallon bucket full of water to kick off cooler temperatures. Just plop the unit on top of the bucket, dip its pump into the water, and turn it on! If the mist alone isn't doing the trick, you can really drop the temperature by adding ice to the bucket. This will allow the fan to spray ice cold mist and air on you and your guests to effectively combat the heat. Not only that, but the Arctic Cove oscillating fan with mister also has an adjustable head. This means you can pick the perfect angle to spray the mist, indoors or outside.
And don't worry if you don't have a bucket handy. Simply plug a standard -ized garden hose into the unit. This feature makes the Arctic Cove oscillating fan with mister perfect for all your outdoor needs. Plus, by using the fan with the hose, you'll have an endless water supply, so you won't need to worry about refills.
The oscillating fan with mister is also perfect for pets that need to lower their temperatures. Just set the fan up outside in the shade and let your furbabies come cool off at their leisure. Opting for the hose setup means your animals can stay cool and damp all summer long, even when you're not around. This ensures they won't be affected by heat stroke or worse, and you can rest easy when you're not around to keep an eye on them.
The fan is powered by a 2 Amp lithium-ion battery (included) that will keep air circulating and water flowing for up to two hours. If longevity is what you're looking for, don't fret. The Arctic Cove oscillating fan with mister can work even longer if you upgrade to other, more powerful, batteries.
So whether you're at the beach, tanning at the park, or throwing a party in your backyard, the Arctic Cove oscillating fan with mister will keep you and your loved ones cool on even the hottest summer days.