These 4 Instant Pot Alternatives Are Worth Every Dollar
You don't have to break the bank for great cookware that'll get you from breakfast to dinner.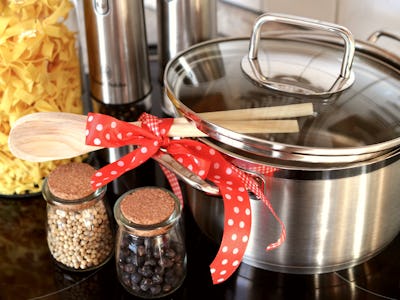 Pexels
If you're into cooking, chances are you've been told time and time again to pick up an Instant Pot. It's great advice, especially since they can cut down majorly on cooking time and even replace several integral kitchen tools at once. With an Instant Pot, you're essentially replacing your rice cooker, slow cooker, pressure cooker, and several other devices.
But while the Instant Pot brand is the most popular one out there right now, that doesn't mean there aren't several other reliable (and cheaper) alternatives that you can pick up to make dinnertime a cinch. Here are four great picks you can opt for instead.
1. Crock-Pot 8-in-1 Multi-Use Express
Crock-Pot is one of the most trusted names when it comes to slow cookers, and if you don't already have one of your own, it's time to invest in one. This particular model comes with four different cooking methods in one convenient package. There's also a timer to help you set meals to cook so they'll be ready when you're finished running errands or doing all those important things you have to take care of in lieu of sweating about dinner. You can even make use of a "keep warm" mode you can use when you want to keep things hot and ready to serve.
2. NutriChef Sous Vide Slow Cooker
This oversized slow cooker has room to spare, ensuring you can cook just about anything you need to within the confines of its pot. It has 11 preset cooking modes to choose from, including bake, steam, roast, stew, rice, and even yogurt. It features a tempered glass line as well as a removable aluminum cooking pot and stainless steel exterior to help you keep things clean as well, and what's more, it won't break the bank. Look for one of these bad boys if you need the extra cooking space as well as convenience.
3. Breville Fast Slow Pro Multi-Function Cooker
Its name may be funny, but that's just indicative of what all this Breville contraption can do. It can do both pressure cooking and slow cooking and can automatically adjust time, temperature, and pressure between fast and slow cooking so it can take care of just about anything you need, whether it's steaming, reducing, sautéing or searing. It's even got a hands-free steam release that you don't ever have to worry about using manually, so you can focus on the more important things in life instead of spending your night on food prep.
4. Ninja Auto-iQ Multi/Slow Cooker
Ninja makes quite a few awesome kitchen tools, but you'll really find the Ninja Cooking System here with Auto-iQ technology useful. It features 80 recipes preprogrammed into the machine right out of the box, so you can do all kind of interesting cooking things with it. Whether you want to make something quick or something delicious and savory, you've got six quarts here to play around with and plenty of ways to go about prepping your food. It's all up to you to decide what you want to make for a delicious meal, but this cooker will help get you there.