Bulletproof Coffee Isn't Just Coffee. Here's the Deal.
You can even order your coffee online now, but this isn't just coffee.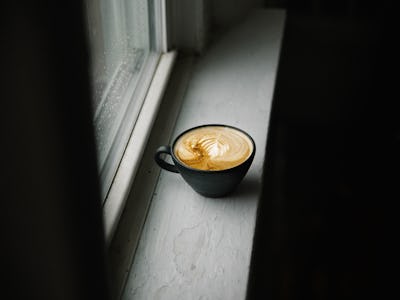 Unsplash / Esther Tuttle
You're probably already familiar with Bulletproof Coffee as a concept and if you're not, you've come to the right place. First popularized as the best way to start your morning, Bulletproof Coffee was born to bring you a different kind of cup of coffee. The original Bulletproof concept and recipe called for the addition of butter and something called Brain Octane Oil, instead of your usual milk and sugar. The result? Weight loss, increased energy, and feeling fuller longer are all benefits of the original Bulletproof Coffee method.
After the marked success of Bulletproof Coffee as a brand, they expanded to offer their own personal line of coffees—that go well with Butter and Brain Octane oil, but don't require it. Every roast, bean and grind sourced by Bulletproof is fully free of pesticides and other harmful chemicals, but they are not certified organic because it's a process that often cuts small family farms out of the coffee trade due to exorbitant costs and red tape.
The Bulletproof brand offers ground coffee, whole bean coffee, decaf coffee and pods, as well as special small batch offerings so that you are always able to make your ideal cup of coffee. Bulletproof recommends buying whole bean coffee, storing it in the fridge in the specially designed foil bag with a valve and using within 3-4 weeks, which should not be hard if you're a coffee regular or have a household of coffee drinkers.
A 12-ounce bag of regular coffee is usually between $12 and $15 in the Bulletproof store, while a 12-ounce bag of small batch coffee is about $19. However if you bundle your order to a 3-pack or you decide to opt for a colossal 5-pound bag, your order will ship for free and you can save even more on special roasts like The Mentalist Medium Dark Roast and The French Kick Dark Roast.
Subscribe to regular deliveries—at the frequency the works for you—and you'll save 5% on every order as well the convenience of free shipping. You can change frequency of orders, pause your subscription or cancel at any time no questions asked. Before any order ships, you'll receive an email reminder with the option to change your quantities, items or skip a delivery.
It's the future. You don't even have to go to the grocery store for coffee anymore. Curious about more of the Bulletproof philosophy and product offerings? Bulletproof also makes a line of coffee accesories, supplements, protein powders and add-ins for your coffee.