Moisture-Wicking Short-Sleeved Shirts You Can Totally Wear to the Office
And you'll never have to iron them either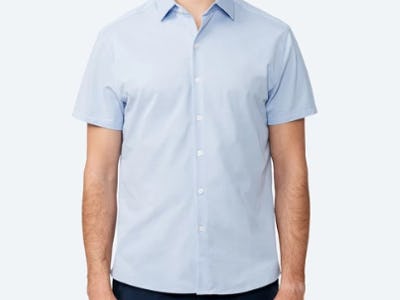 Ministry of Supply
Ministry of Supply is basically what happens when engineering meets fashion. They are a clothing company with a mission to make professional clothes actually feel comfortable. Like workout clothes level of comfort. The company says they were "born at MIT," which basically means that they focus on the science behind making your clothes feel the most comfortable, easy to take care of, high stretch and sweat proof. The good news is that you don't have to know how this all works in order to benefit from their research and design. Here are three different sweat-proof shirts from Ministry of Supply you can wear to the office.
Why We Picked It This shirt has some pretty impressive features. It's wrinkle free, sweat wicking, and flexible. It also uses targeted laser cut ventilation, which basically means that it'll reduce sweat stains and have you smelling nice even on hot sweaty days. And considering that it's constructed to be wrinkle free, (no more ironing), you might never want to wear another shirt again.
Why We Picked It When a shirt comes with a whole explanation about how its materials keeps you cool, you can be sure it will do the job. Basically, Seersucker, which was developed in India, is a rippled fabric that is deigned to create more space between you and the your shirt, and therefore, ventilation. This shirt is made from a blend of cotton and Coolmax® polyester, which works really well reduce sweating and keep you as cool as possible.
Why We Picked It This shirt is 19 times more breathable than cotton. If you're wondering how that's even possible, it was made with the same materials NASA invented to regulate astronauts' body temperature. And it's also comfortable, allowing you to move freely during the day without feeling stiff. And best of all, you will never have you iron it.