Tired of Dumbed-Down TV? Try CuriosityStream Free for 7 Days.
It's a thought provoking streaming service with over 2,400 documentary shows and films.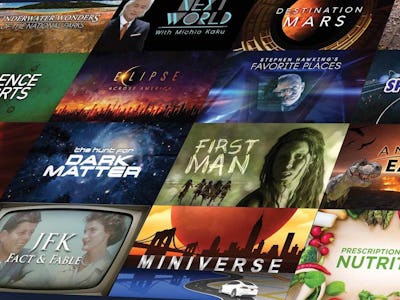 CuriosityStream
Binge-watching TV shows and movies has become the default pastime in many American households. But if you've ever felt like you're wasting your brainpower on Netflix, you might enjoy CuriosityStream, which, simply put, is a streaming service like Netflix or Hulu, but one that is devoted only to enlightening, educational, and yes, entertaining programming. And right now, you can get a CuriosityStream free trial for seven days.
CuriosityStream focuses on science and educational programming that used to be a familiar sight on channels like Discovery, TLC, or the History Channel during the golden age of basic cable. But finding such programming is increasingly rare in today's media landscape. Luckily, CuriosityStream can take you back to those days and then some, with an extremely impressive library of around 2,400 documentary series and films, including some acclaimed original programming you can't get anywhere else. And here's the best part: You can try it for a week absolutely free.
If you like what you see, as any documentary junkie surely will, CuriosityStream is throwing in an extra bonus for those willing to take the plunge and sign up for a whole year of the service. Between now and July 14th, everybody who signs up for an annual plan will get a free $10 Amazon gift card which you can spend however you want.
If you still decide not to go with the annual plan, you can get CuriosityStream for as little as $2.99 a month after your 7-day trial comes to an end. The above prices give you all of CuriosityStream's incredible programming, including The Secrets of Quantum Physics, The Rise and Fall of T-Rex, Stephen Hawking's Favorite Places, and countless more. And it's all viewable on unlimited devices with no regional restrictions anywhere in the world, and in high definition. But if you're a cutting edge videophile who demands 4K resolution, there's the Premium plan. For $9.99 a month or $69.99 a year, you get everything included with the standard plan, but with upgraded 4K streaming.
CuriosityStream is compatible with pretty much every major streaming device, from Apple and Android tablets, LG, Sony, Vizio, and Samsung smart TVs, to Apple TV, Roku TV, Amazon Fire TV, and Chromecast, and the Xbox One. And CuriosityStream's programming library pretty much speaks for itself. But if you need a little more convincing, the name of John Hendricks should do the trick. Hendricks is the original founder of the Discovery Channel, and his goal with CuriosityStream has been to try and recapture the vibe of that channel in its heyday, before the wave of so-called "reality TV."
So, if you've been looking for better, more thought-provoking programming, check out the CuriosityStream free trial right here.