A Google Wifi Mesh Network Covers Your Whole Home With High-Speed Internet
When it comes to mesh wifi systems, there's really no competition.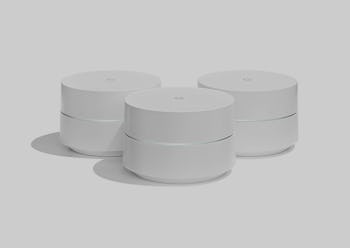 Google Wifi
Ten years ago it wasn't a big deal if your wifi network didn't reach every single corner of your home. But things are different now. Today, we don't just use the internet to look things up on Wikipedia. We use it to watch TV and make phone calls. We have smart home technology to wirelessly control integrated lighting, media, heating & cooling systems, and security cameras. We have smart refrigerators that detect when the door is ajar. We have smart washing machines that notify us when our load is done. We even have smart toothbrushes that track our brushing sessions and tell us if we missed a spot. For the most part, none of this cool 21st century tech works unless you have strong wifi network blanketing your entire home. And when it comes to making sure every inch of your home is connected, nothing beats Google Wifi.
Google Wifi is what's known as a "mesh wifi" system. That's a type of system that consists of a main router that connects to your modem, plus a series of satellite nodes or modules placed around your house. These satellites connect to the main router and cast its signal out wider, providing greater coverage. As you would expect, there are a lot different mesh wifi systems to choose from, and some of them are very good. But there are a few key features that make Google's mesh wifi system the cream of the crop.
Easy to Set Up
Perhaps the biggest selling point for those of us who aren't exactly computer experts is that Google Wifi is incredibly easy to set up. All you need is a Google account and the free Google Wifi app for your internet-enabled iOS or Android mobile device. The app will then walk you through the setup process in about 15 minutes. It will even help you determine the best location for your nodes to maximize coverage.
Strong, Fast, and Reliable
The Google Wifi system provides a strong signal throughout its coverage area that is both stable and fast enough for most everyday applications. You can walk from one end of your house to the other, switching from node to node as you go, without losing your connection. The system supports maximum speeds over 400mbps near the central node and up to 200mbps near the outer nodes. That's more than enough to listen to music and stream HD videos.
Like any mesh wifi network, the signal gets weaker and speeds get slower the further you get from the primary router. However, if you absolutely need maximum speeds, you can eliminate signal loss with Google Wifi by physically connecting the individual nodes. That will entail running networking cables through the floors, walls, and ceilings of your home. But the end result will be full-speed wifi in every nook and cranny.
Smart
Google Wifi has a number of advanced features that help maximize its performance. For starters, the system automatically analyzes the air space in your home, detecting other signals that might cause interference and determining the clearest channels and best Wifi band (either 5ghz or 2.4ghz) for each connected device. You can also use the app to see all connected devices, and special family controls allow you to pause the wifi on kids' devices. And of course, Google Wifi can connect not just to Google smart home devices, but to those from Amazon and Nest as well.
Affordable
Last but not least, when we talk about Google Wifi, we have to talk about value. While other major mesh wifi systems like the Netgear Orbi cost as much as $400, a Google Wifi three-pack—which provides up to 4,500 square feet of wifi coverage—is just $259.
At that price, for the vast majority of consumers, Google Wifi absolutely blows the competition out of the water. So what are you waiting for? Upgrade your network today with Google Wifi.