Get Your Suitcase Organized With These Elegant Travel Accessories
Nothing's more frustrating than fighting with your luggage to fit everything for your upcoming trip. But what if you could make packing more enjoyable?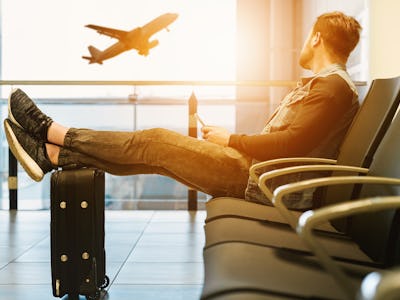 Unsplash / JESHOOTS.COM
Traveling to far-flung places is fun, packing for those experiences…not so much. Unless you're one of the lucky ones who has enough status with an airline to check baggage at no additional cost, you're going to need to pack light. But even if you do have a coveted status, you still want to make sure that your items arrive at their final destination in one piece, with no spills or accidents that can ruin your trip. And that means you need the right luggage accessories to make packing more efficient. Say hello to Nomatic, a brand that's all about functional travel pieces that make trips just a tad bit easier.
No matter how long your trip, you'll want to invest in a laundry bag. There's nothing more frustrating than trying to sort through dirty versus clean clothes because everything is mixed together in your luggage. The Nomatic laundry bag can come in handy for easily separating dirty clothes from the rest of your supply. While this bag comes standard with their 40L luggage bags, it can also be purchased separately as shown here.
Nomatic Compression Packing Cube
Packing efficiently is a goal for anyone whether you're traveling by plane or hitting the road. But if you're flying, you know all too well that space is at a premium, especially if you're limited to a carry-on bag. The Nomatic compression packing cube helps you maximize space thanks to its compartments and key feature—compression. As the name implies, the central perimeter zipper means you can compress the cube down from a full height of five inches to three and a half inches. And that means you have just a bit more space to pack a few other essentials in your luggage.
Maybe you're traveling for business or a special event, you probably don't want to pack your "good" clothes in your regular luggage where they can get horribly wrinkled. In that case, it's time to invest in a garment bag. But what makes Nomatic's garment bag better than the standard options is that not only is it made with Tarpaulin to protect your clothes from moisture, but it's also built with functionality in mind. When you unzip the bag, it features eight internal pockets of varying sizes to accommodate everything from shoes to accessories like belts, ties, and jewelry.
Sure you can rely on hotel soaps and the like to get ready every day when you're on vacation, but most people like to bring their preferred toiletries with them. So, you're going to need a place to store them that won't take up too much space and won't leave you open to the risk of spills. The Nomatic travel toiletry bag is designed from tarpaulin material—a stronger fabric that's designed to hold in spills so your clothes won't get damaged if there's an accident.
It's inevitable that packing for winter travel tends to be more difficult than packing for warmer climates. And this is all due to the fact that you need to pack warmer clothing so you won't freeze at your destination. But all those bulky items can make it almost impossible to pack everything into a carry-on bag, until now. The Nomatic vacuum bag allows you to bring even the bulkiest of gear with a maximum compression of 10 inches. A stack of clothes as high as 18 inches can be compressed down to eight. And no, you don't need a vacuum to use this product, the built-in valve allows you to compress on the go.