'Dark' Season 3 Will Go Deeper on Time Travel to Answer Every Big Question
There are lots of loose ends to tie up.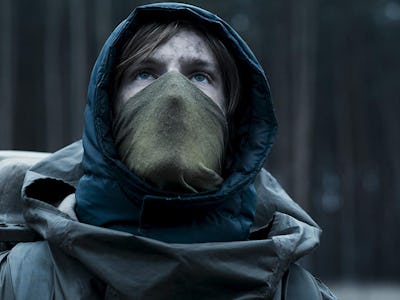 Netflix
As an avid viewer of Netflix's Dark, it feels like the recently released Season 2 has left me with more questions than answers. With Dark Season 3 currently filming ahead of a 2020 release, any new hints about Season 3 are welcome, and we just got a big one.
Per The Hollywood Reporter, Kelly Luegenbiehl, VP of International Originals at Netflix, offered this interesting hint about the coming season:
"Starting the production of the last season of Dark is much more than just the beginning of the production of the third installment. We are literally going full circle with our first German original series and cannot wait for [Friese and Odar] to fulfill their vision and reveal the final secrets to the audiences and fans around the globe that have embraced Dark from the start."
Luegenbiehl's comments seem to reinforce the Dark Season 2 finale, which promised even more time travel awaited each of the main characters in order for the timeline to be restored to its rightful continuity and prevent any characters from dying while doing it. But with Season 2 already turning viewers' brains into pretzels, it will be interesting to see how Friese and Odar proceed with the final season and presumably make things even more complicated thanks to time travel before they get simpler.
Friese and Odar also opened up to THR about what fans can expect from Season 3 overall, sharing, "We will offer answers to the questions that our viewers have been asking and help untangle the story through time. It will be hard for us to walk away from those characters we have really grown fond of, but the beginning is the end, and the end is the beginning."
It's definitely nice to see the showrunners are keen to offer us the answers viewers so desperately crave. There will be a lot of answers required to make Season 3 feel satisfactory, that's for sure. Thanks to the multiple time periods shown on Dark, and the characters regularly breaking big time-travel rules (like not interacting with your past or future self), the Netflix series is going to have to spend some serious screentime during its final eight episodes carefully addressing questions and avoiding creating new plot holes.
THR's report also notes that some newcomers have been recruited to help make Season 3 even more complex and twisty through the magic of time travel. Those newcomers are Barbara Nusse, Hans Diehl, Jakob Diehl, Nina Kronjager, Sammy Scheuritzel, and Axel Werner. It's hard to believe Dark has any more room on its already crowded roster of characters. Hopefully, the characters these new actors portray will help to smooth out the complex timeline.
Dark Season 3 is expected to release on Netflix in 2020.