What to Know About Neil Gaiman's 'Sandman', Set to Shake Netflix Up Soon
Sweet dreams are made of this.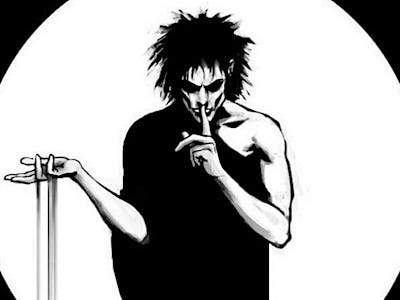 Vertigo/DC Comics
Neil Gaiman's foothold in television just got a little more secure when, on July 1, Netflix confirmed his Vertigo comics series Sandman would be developed into a series. According to The Hollywood Reporter, Sandman's adaptation for Netflix is part of a massive deal struck between Netflix and Warner Bros. Television. This, in short, is a big win for everyone involved.
In a statement on bringing the story of Sandman to life, Vice President of Originals at Netflix, Channing Dungey, had this to say: "We're thrilled to partner with the brilliant team that is Neil Gaiman, David S. Goyer, and Allan Heinberg to finally bring Neil's iconic comic book series, The Sandman, to life onscreen. From its rich characters and storylines to its intricately built-out worlds, we're excited to create an epic original series that dives deep into this multi-layered universe beloved by fans around the world."
Gaiman's Sandman comics series for DC Comics imprint Vertigo Comics follows Dream (a.k.a. Morpheus), a godlike being known for influencing dreams. The series is a long and winding journey through Dream's life and adventures, show how he and other gods evolves, connect, and change over time.
It's been a long, long journey getting Sandman to the screen, with the most notable failed attempts happening just a few years ago. But that's all in the past and now; it's full steam ahead into dreamland.
Details are still slim in regards to what exactly is happening with Sandman but there are some key things we do know. Let's take a look.
When Will Sandman Be Released?
Sandman has no set release time just yet. However, scheduling should be sorted out in the coming months and hopefully, a release date will be announced by the end of 2019. Considering Gaiman's cachet in television at the moment, Netflix will no doubt be eager to get this series on the fast track.
How Many Episodes Will Be Included In Sandman?
Sandman has been secured for 11 episodes for its first season on Netflix. The series will likely be classified as a drama, meaning each episode will last approximately one hour. No episode titles have been announced just yet.
What Is the Plot of Sandman?
Sandman will follow Dream, also known as Morpheus. Morpheus is a god in control of dreams and part of a group of beings known as Endless. Other Endless include Death, Desire, Destiny, Despair, Delirium (formerly Delight) and Destruction (also known as The Prodigal). Sandman will focus on Dream, but the series might also include some origin story elements for his journey, adapting from a single story in the Sandman comics canon for Season 1.
A curious little summary popped up on the Sandman IMDb which could hint at the series plot, but with nothing confirmed from those in the know, it's tough to tell. The summary reads:
"A wizard attempting to capture Death to bargain for eternal life traps her younger brother Dream instead. Fearful for his safety, the wizard kept him imprisoned in a glass bottle for decades. After his escape, Dream, also known as Morpheus, goes on a quest for his lost objects of power."
Who Is In the Sandman Cast?
It just got announced, y'all! Nobody can have a cast rounded up that quickly.
However, casting should start soon with the role of Morpheus likely announced in the next few months. Casting should be all done by winter 2019. There will be plenty of roles to cast, too, since Sandman includes a large group on unusual characters — typical of Gaiman and his other TV franchises: Good Omens and American Gods.
Will Neil Gaiman Be Involved In Sandman?
Gaiman will definitely be involved in Sandman. As THR noted in their report on Sandman moving forward at Netflix, Gaiman will serve as executive producer on Sandman alongside David S. Goyer (writer of Batman Begins and Batman v Superman). Gaiman and Goyer will join forces with Wonder Woman scribe Allan Heinberg — tapped to serve as showrunner, an executive producer, and series writer — to write the first three episodes of the series, too.
Previously, Gaiman has been similarly involved, albeit to a lesser extent, as an executive producer on Good Omens and American Gods. In each respective instance, Gaiman is credited with serving as executive producer for only a few episodes; now, he'll stick around for the entire Sandman series.
How Can I Watch Sandman?
You'll be able to watch Sandman only on Netflix when it finally premieres. Now might be a good time to start catching up with the comics so you're totally prepared.
We'll keep you posted on Sandman as this project develops.