The Best Wireless Headphones Under 75 Dollars
These headphones will surprise you how great they are.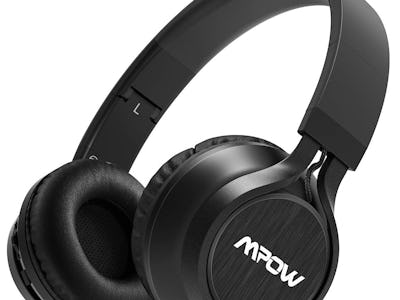 Amazon
If you're in the market for a pair of wireless headphones, but aren't looking to spend $100, you're in luck. There are so many headphones available at a wide variety of price ranges, it's easy to find something for anyone's budget. Check out some of the best options you can get for under $75 below.
Mpow Thor Bluetooth Headphones
The Mpow Thor Bluetooth headphones pack a mighty punch without packing a mighty price. The design of these on-ear cans aren't anything to write home about, but what they lack in style, they make up for in reliability and price point. For under $30, you shouldn't be expecting something overly gorgeous, anyway.
A single charge will nab you 8 hours of continuous playback, but you can squeeze even more life out of them depending on your usage. Like many others of its kind, the Mpow headphones have a foldable design so you can easily stow them away and be less bulky in your bag. Other features include a built-in microphone so you can take calls and a cable for wired listening.
COWIN E7 Active Noise Cancelling Headphones
Headphones with good active noise cancelling usually cost a pretty penny. Cheaper headphones claiming to offer the feature often miss the mark, but the Cowin E7 makes a great effort with it's $60 pair of headphones.
This is a pair of headphones that ships with virtually all the features you'd come to expect in a pair that costs a couple of hundred dollars. Not only is active noise cancelling present, you'll also get NFC, so you can quickly and easily pair devices to them. Now, add in a 30-hour playback time and you have a fantastic pair of headphones that rival some of the best in features. Available in 5 colors, the Cowin E7 headphones are probably the best fit for most people.
If you think you can live without active noise cancelling with your pair of headphones, there's an even cheaper variant of this model that's just for you.
TaoTronics Active Noise Cancelling Headphones
Another solid pair of wireless headphones comes from TaoTronics, a name you may or may not have heard of. Well, you can rest easy, as these headphones have nearly a 5-star rating and over 1700 reviews backing them up.
The headphones aren't much unlike the Cowin headphones above. With them come active noise cancelling, built-in microphone, 30-hour battery life, and multiple color options. You may want to opt for these if you're looking to save a buck or two, as they're slightly cheaper the ANC Cowin headphones above.