5 Items to Upgrade Your Home Entertainment System
These upgrades will help bring your entertainment system up to date.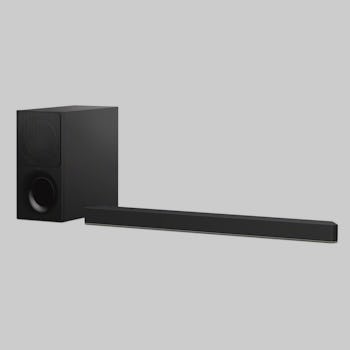 Amazon
The home entertainment system you bought 10 years ago probably isn't holding up you wished it would have today. It happens, and sometimes upgrades are in order. If you're looking to make a serious impact, you need to check these upgrades out and make sure your home entertainment system is ready for 2020.
We'll be leaving out the best TV upgrades. You can check the best ones out here.
Soundbar
If you want to make a substantial impact on your entertainment experience, sound is as important as the visuals. For TVs, you can't simply upgrade the display, but you can improve the audio experience with a sound bar. It's true that you can get big sound from small and cheaper soundbars, but if you're looking for a quality option, look no further than the Sony X9000F.
The 2.1ch soundbar and wireless subwoofer may be $400, but you'll be getting the Sony seal of approval, and they know a thing or two about audio (and they currently hold the crown for the best noise-canceling headphones). The X9000F brings both Dolby Atmos and DTS: X object-based surround sound technology, along with Sony's Vertical Sound Engine.
Chromecast Ultra
While this is hardly what you could consider a genuine upgrade, but the Chromecast Ultra is basically the easiest way to send videos and music to your TV. Whether it's a YouTube video or a movie from Netflix, the Chromecast Ultra can do it, and in 4K HDR for that matter. If you have a Google Home or Nest Hub, you can even tell it to show videos from YouTube or play a show from Netflix with just your voice.
If you're a gamer, the Chromecast Ultra is even more interesting, as that's virtually all you'll need to use Google's upcoming video game streaming service, Stadia.
Smart TV Box
No matter what smart TV you plan on getting, there's a good chance that its software will leave something to be desired. Luckily, this can be easily remedied with a smart TV box. However, before you take that plunge, consider your current ecosystems you're already heavily invested in — it'll make your decision much easier.
Android users can option for one of the several Android TV boxes available, but there's really only one that's worth buying: The NVIDIA Shield TV. 
Apple users can obviously choose the Apple TV, but we'd suggest you'd go for the 4K option.
Have an Echo or Alexa-connected device in your house? The Fire TV Cube is for you, bringing Amazon's custom TV OS.
Home Theater Speakers
If you're not sold on the idea of a simple soundbar and subwoofer, you may be happier with a full-fledged home theater system instead. These systems give you genuine surround sound, but they're usually more expensive. If you're looking to strike a balance between function and price, the Yamaha YHT-4930UBL Home Theater in a Box System is just what you need.
The 5.1 setup supports Bluetooth so you can easily stream your music from your phone or other devices to the system, so it's not confined to just content coming from your TV. Other features include 4K UHD pass-through with HDCP 3.3 support, HDR support, including Dolby Vision and HLG.
Lastly, the home theater system ships with YPAO (Yamaha Parametric room Acoustic Optimizer) sound optimization, which will analyze your room's acoustics, and automatically make adjustments so your speakers sound great in the room you place them in.
Gaming Console
If you're looking for some real, immersive entertainment, then a gaming console is hard to beat. Even if you're barely a casual gamer, the modern gaming console operates much like a computer or media center.
The Xbox One S is one of the cheapest ways to not only get a gaming console but it also ships with a 4K Blu-ray drive, making it an even more valuable piece of kit in your home entertainment system.