The Best Smart TV for Every Type of Budget
Not all smart TVs have to break the bank.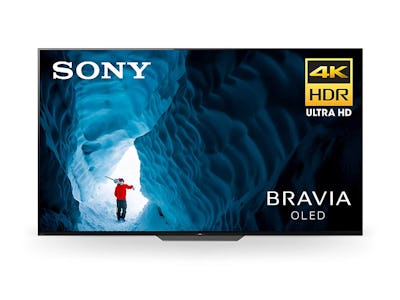 Amazon
The days of finding a great TV across all price points is no longer the challenge it once was and the same goes for smart TVs. Actually, it's probably hard to find a TV that isn't smart these days, so it should be just a given at this point. Nonetheless, just because your options are plentiful doesn't mean you should blindly throw your money at something without looking into what's available for your budget. Below are 5 smart TVs for virtually any budget!
Smart TV Under $500
If you haven't purchased a TV in while, you'll probably be surprised about how much you're not going to sacrifice when looking into a sub-$500 TV. The Samsung UN50RU7100FXZA Series 7 embodies this idea. The 50-inch 4K smart TV offers a fantastic picture, access to all of your video streaming content, HDR support, and more. Better yet, when on sale, you can even grab the 55-inch version of this Series 7 line up and still pay under $500.
Smart TV Under $1000
When you step closer to the $1000 mark, you'll start to get towards Samsung's impressive QLED territory. The QN49Q60RAFXZA is one of the tech giant's latest and greatest, while still remaining relatively affordable. The 4K set comes with virtually everything you'd want in a TV of this price range, along with some truly interested features. In addition to it's artificial intelligence, stellar 4K HDR Playback, Samsung offers what it called Ambient Mode, which allows the TV to blend in with its environment by becoming a photo frame instead of becoming another "black mirror" in your house.
Smart TV Under $1500
Within this price range, things get even more interesting, because you're now in OLED territory. QLED may be what Samsung brings to the table for its high-end TVs, but it's still bested by OLED's infinite contrast, ultimate blacks, and stunning colors. The LG B8 OLED TV may be last year's model, but we guarantee it's better than what you have in your living room right now. It's also important to note that LG uses the same panel across a single generation of its TVs, so while the B8 is on the lower end of the spectrum, it shares the exact sams picture quality to that of its higher-end C8, E8, and even W8 models.
Smart TV Under $2000
Once you go OLED, you probably won't even want to go back. While LG has led the charge for OLED TVs (and technically provides most of the panels for other manufacturers), it's not the only one that can make a drool-worthy TV using this screen type.
Sony knows a thing or two about making a solid TV, and by adding in it's own X-Reality engine to OLED TV, it's a true contender to anything else on the market. The 2018 XBR55A8F or even the 2019 Sony A8G are both fantastic TVs under $2000, though you may have trouble finding the 2019 model in stock.
Smart TV Under $5000
If you're looking for something high-end, new, and shiny, LG's latest OLED TVs will do the trick. The "E" series is one of the higher tiers of the OLED lineup, usually offering a handful of features not found on the B and C items of the line. This E9 is dripping with the best picture quality available if you can stomach the $4000 price tag.
Wanna go for broke? If you're looking to buy a TV that's the cost of over $10000, don't question it and just purchase the LG W9 Wallpaper OLED TV for $13,000. It's your dream TV.