These Organic Men's Tees Are Incredibly Comfortable and Cool-Looking
They're the kind of tees you won't want to replace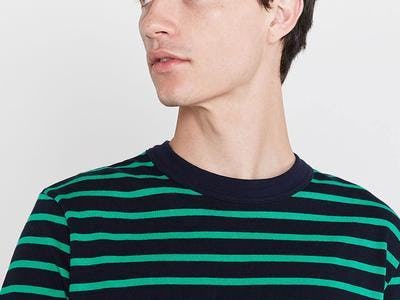 Entireworld
When you find a tee shirt you love, it's pretty much impossible to replace it. There's just something about the soft fabric and how it feels to wear, not to mention how it looks, that makes you wear that one particular shirt all the time. Even when there are other perfectly fine shirts sitting in your closet. Entireworld is a clothing company founded by Scott Sternberg that is pretty much obsessed with that perfect fit. And based on how how these tees look, it shows. Here are some of our favorites.
Why We Picked It It's difficult to go wrong with this classic T-shirt. It's the perfect fit and the fact that it is 100% cotton means it's so soft you can sleep in it.
Why We Picked It This one is optimal for comfort. It's boxy while still maintaining a clean form, and the neck rib is made from organic cotton that is super soft and cozy.
Why We Picked It The color combination on this t-shirt is simple yet elegant, subtle yet bold. It's made from 100% recycled cotton and feels light and lose without being too baggy.
Why We Picked It This one comes in either black and green or blue and white. It's lightweight while still keeping you warm during the fall or chilly evenings.