We've Found the Best Online Mattress Company With a 365 Day Trial
A mattress you can try? Tell me more...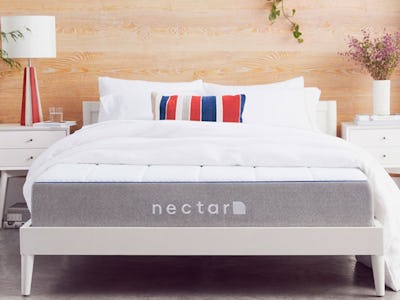 Nectar
It's no secret that buying a new mattress is no easy decision. Much like everything else in the first world we are overwhelmed with choices. Considering that mattresses are such a big ticket item, your ideal purchase should offer the most bang for your buck ideally with low risk.
When it comes to mitigating the risk of a large online purchase, Nectar has taken it to a whole new level. You can't get much better than a "forever warranty", free shipping, free returns, and a 365-day trial period. That's a mouthful. And when you think about it, that's about as low risk as they come.
Nectar Has It Figured Out
Nectar mattresses are made with two layers of gel memory foam to help circulate air and evenly distribute your body weight and a Tencel cooling cover for breathability and moisture absorption. They provide good motion isolation and there is little to no noise when bearing weight. All of this with prices starting at $399.
If you're also looking to make it even easier, Nectar also carries a variety of bases and bedding essentials, allowing you to make it a one-stop shop. And everything arrives at your front door. Not too shabby.
Nectar has found the secret sauce to a good night's sleep and the end result is a mattress that is firm, breathable and comfortable. A good nights sleep is closer than you think.
Nectar has incredibly low prices across all mattress and their mattress come with two best-in-category pillows.