Check Out These Perfect High-Tops
These high tops are made from eucalyptus trees to keep your feet cool and frisky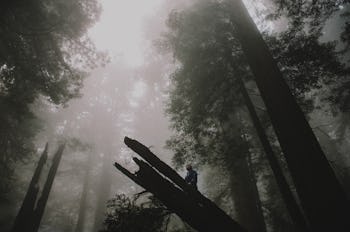 Unsplash / Bradley Davis
Yep, you got that right. Footwear made from eucalyptus trees.
If you are horrified by the carbon footprint left by your footwear, wear green shoes made from plant fibers and wool. We found the best pair for you: The Men's Tree Toppers from Allbird.
If you aren't horrified by the carbon footprint of your footwear, maybe this would be a good time to point out that Americans throw away at least 300 million pairs of shoes each year. They go into the landfill and can take 30 to 40 years to decompose because they are full of plastic.
That's right, plastic. That sort of explains why your feet are suffering, right?
You won't want to throw these Allbird Tree Toppers away. They are deliciously comfortable, minimalist, and cool. And they are sourced from materials that biodegrade and have a very low carbon footprint.
You can wear these babies anywhere. Not only are they cool on your feet due to the woven eucalyptus pulp uppers. But they sport a cushiony foot bed made from Brazilian sugarcane and a padded, wool insole. Even the eyelets are naturally sourced from a biobased polyurethane. There is nothing plastic to trap your feet. (Except the laces, which are made from recycled plastic bottles.) Your feet can breath so well in here — and everything is so smooth and soft — you don't even need socks.
That would all be good in a shoe that looked like something made from plants. But these are an enviably slick, minimalist high top that will look fantastic with everything from shorts to dress clothes. You could wear them on a hike. Wear them on your bike. Then wear them to a wedding.
They come in eight colors — some with contrasting white soles — so you can be as wild or muted as your own bad self wants to be.
Go for bright. Remain understated. Do whatever you want. You have many options.
Remember, though, when you toss out all your other shoes, that you might be able to recycle them. But only if they are in decent shape.