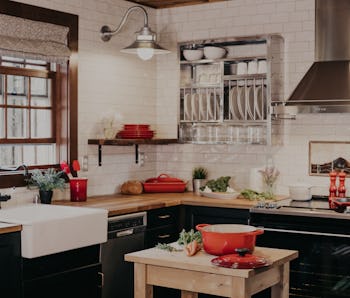 Innovation
Stock Your Kitchen With These 5 Appliances That'll Make Your Life Easier
Cooking doesn't have to be hard to be worth it.
Unsplash / Becca Tapert
You work too hard not to have a kitchen that works for you. Not everyone comes from a homecooking family, and even if they do, working all day, chasing kids all day and just doing all the stuff that it takes to stay alive today is not conducive to sweating over the stove at the end of it. But that doesn't mean cooking isn't in the cards for you, it just means you have to get smarter about the way you stock your kitchen.
Incorporating even one of these appliances into your kitchen tools will leave you with more time to relax while dinner is being prepared—and who doesnt want that? You don't have to be the kind of cook your mother was to become your very own version of a home cook.
You deserve to eat well, to feel accomplished of what you've made and you deserve both without depleting your necessary energy reserves. Look no further than this list to find the necessary items your kitchen might be missing.
For The Baker Who Doesn't Love To Stir By Hand
Why We Picked It: Sales like this one are rare, so if you've ever wondered if it's time to invest in a stand mixer, there's no time like the present. This 6 quart stand mixer from KitchenAid has been around for years and it's a favorite for good reason. Making dough, mixing cake batter, and even going so far as to purchase the attachments for ice cream and pasta, has never been easier with this kitchen powerhouse.
For The Person Who Wants A Slow Cooker That Does More
Why We Picked It: This incredible slow cooker performs 7 functions for the price of one. Preloaded with 14 smart programs including soup, stew, chili, poultry, sauté, rice, keep warm and more, all you have to do is know what you want to eat and the Instant Pot makes it. With this best selling appliance, you can even start making your own yogurt.
For The Person Who Always Overcooks Their Meat
Why We Picked It: This smart thermometer has 2 sensors built into one probe so that you can stay on top of the internal temperature of your meat as well as the temperature of your oven and grill without even needing to look inside. Able to deliver accurate readings up 165ft away from the probe, this smart thermometer gives you notifications throughout the entire cooking process so that you can focus on clean up, side preparation or just sitting down.
For The Person Who Visits The Coffee Shop Several Times A Day
Why We Picked It: Your perfect coffee beverage can be made right inside of your kitchen. This vintage inspired espresso machine has the latest technology with a stylish look that pairs well with any counter. All you have to do is load it up with your preferred espresso grind, press a button and the perfect shot of espresso is pulled for you without you needing to go anywhere.
For The Person Who Lives For Restuarant Food
Why We Picked It: The sous vide has been an essential appliance in professional kitchens for decades and finally they are available at accessible pricepoints for the regular home cook. This sous vide connects to WiFi and your smartphone so that you don't even have to be in the room to cook the perfect dish anymore. Perfect for anything to steak, fish and everything in between.