Get a Lightweight Samsung Chromebook for Less Than $100
All The Laptop Power With None Of The Laptop Bloat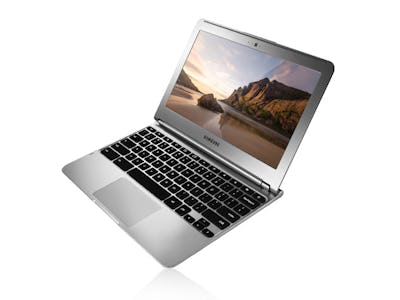 StackCommerce
The Details:
Versatile Chromebook perfect for work or play
Lightweight Chrome OS for quick performance
16GB hard drive and clear LED HD display
Why You Want It:
The worst part about computers is after a while they're weighed down by so much junk — bloated software, useless files, and strange viruses that slow down performance. Chromebooks are the perfect solution to your typical slow and bulky laptop. Optimized for quick computing and use with Google Search, Gmail, YouTube and more, Chromebooks are simple and straight-forward to use whether you're working on documents, playing games, or video-chatting. Plus, it features built-in virus protection so you never have to worry about security.
The Deal:
A refurbished 11.6" Samsung Chromebook normally costs $599, but now you can get one from the Inverse Shop for a huge 83% off the retail price for just $99.99. Plus, when you enter code FIREWORK15 at checkout, you'll get an extra 15% off.
Prices subject to change.