Score Huge Savings With These Hot 4th of July Deals
Get Yourself A Mid-Summer Present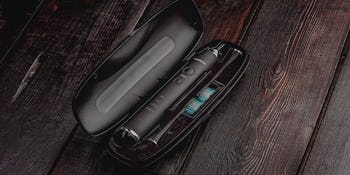 StackCommerce
You can celebrate this 4th of July with a fun backyard BBQ and cold drinks and still have room to enjoy a couple of deals. Any occasion is a good excuse to check out the latest price-drops, and if you're entertaining visiting friends and family there's no better time to spring an early (or late) birthday present on them. The 4th of July means a lot of things to a lot of people, so why can't it also be about deals?
Right now, you can enter code FIREWORK15 to save an extra 15% off all these deals. See? It's clearly the season for deals.
AquaSonic Black Series Toothbrush & Travel Case With 8 Dupont Brush Heads
Once you damage a tooth with decay or cavities it's never as pristine as it used to be. Take care of your teeth and keep them pearly white with this high-end AquaSonic Toothbrush. With its powerful 40,000 VPN motor and deep-clean technology it removes up to 10 times more plaque than your traditional brush and also features multiple modes for a personal experience. At a hugely-discounted sale price of $39.99 it sure beats a trip to the dentist.
This Bluetooth Smart Watch is a powerful multi-tasker. Contained within its ergonomic sweat-proof design is a pedometer, calorie calculator, distance meter, and more. With your SIM card, you can even make calls and send texts right from your wrist. It's not your granddaddy's watch, and at a sale price of just $29, it doesn't cost as much either.
KeySmart Pro with Tile Smart Location
There's a reason it's a cliche: everybody loses their keys. You might not even know where your keys are right now. But when you find them, attach this KeySmart key organizer. Not only does it cleanly and simply organize your keychain, but it also rings your keys using an app on your phone. That way you'll never lose your keys again. But what if you lose your phone? No problem: it also works in reverse — you can ring your phone using your keys. Organize your keys (after you find them) with this KeySmart Pro for $59.99.
GO2SLEEP: AI-Powered Device For Restful Sleep
There's a cool tech solution for everything in your waking life, but only one that you need for sleep. The aptly named GO2SLEEP device monitors and improves your sleep quality using precise data fathered while you snooze. It generates a comprehensive personalized sleep report and then develops personal tips and recommendations for you to improve your sleep. You can also sync it to your phone for easier access. You can diagnose and fix your sleep problems with this AI-powered device for $129.
4K Ultra HD Action Cam with Mounts
Looking to film some awesome first-person action sequences? This HD Action Cam records high-definition 4k quality video, and with the included mounts you can record practically anywhere. Attach it to your car, your bike, your helmet. Includes built-in WiFi, waterproof casing, and a wireless wrist remote so you can take pictures up to 33 feet away. Get a piece of the action for a sale price just $69.99.
Rocketbook Everlast Reusable Notebook + Pen Station: 2-Pack
It seems like someone should have invented a reusable notebook by now, right? Well, they have. This innovative reusable notebook is the last notebook you'll ever need. Write down your notes to save as long as you'd like, then wipe the page clean with a moistened cloth when you're finished. You can also use the companion app to send your notes to the cloud (Google Drive, Dropbox, iCloud, and more). You can get the Rocketbook Everlast Reusable Notebook + Pen Station 2-Pack for $59.99, which is a lot less than a lifetime of buying notebooks.
HyperChiller V2 Rapid Beverage Cooler
Ice cubes have officially been out-classed. HyperChiller is a powerful beverage cooler that can make iced coffee, tea, or even wine up to 130 degrees cooler in just one minute. HyperChiller uses two layers of food-grade stainless steel to keep your beverage and ice separate while it cools, so you can get a refreshing, chilled drink without watering it down. It's perfect for cooling off this summer and it's only $29.99.
Prices are subject to change.