6 Necessary Items to Survive on Road Trips
Make It To Your Destination In One Piece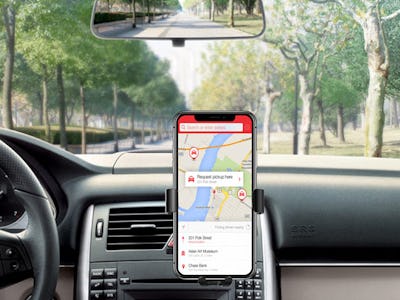 StackCommerce
Road trips are a fun way to explore the country and have an adventure, but they're also full of hazards you've got to avoid. No, not just scary hitch-hikers or construction zones. You also need to make sure you don't drive yourself crazy on the way to your destination. Here are some essential comfort items for your next road trip, whether it's across the country or simply across town.
CHOETECH Air Vent Fast Wireless Qi-Certified Car Charger
You've got to have a car charger for your phone, that's a given. But what's not required is having to deal with all those messy wires. This cool 2-in-1 accessory combines a maneuverable 360-degree phone mount with a quick wireless charger. You can drop in your phone and start charging in a fraction of the usual time and without the fuss of wires. Right now you can get it for just $24 after a huge price drop.
HUDWAY Glass Heads-Up Navigation Display
Here's a cool way to make your road-trip futuristic. The HUDWAY Glass lets you use any heads-up display (HUD) app on your mobile device in your car, producing a 20% larger image for navigation, your speedometer, or any other app, and all perfectly within your line of sight. It's a safer (and much cooler) way to use your GPS, and it's only $49.95.
Multi-Functional Car Backseat Organizer
It wouldn't be a road-trip without all of your snacks and supplies carelessly strewn about the car in a messy and unorganized fashion. Actually, that's wrong. It would be much better without the clutter. So get this backseat organizer and enjoy your road-trip in a tidy car. It also features an insulated pocket for cold drinks or lunch. You can get it for 59% off the usual price at just $14.99.
LiveXLive Radio Plus Subscriptions
On any road trip, the biggest point of contention will be music selection. The odds are stacked against you: there's only so much of your car mate's playlists you can handle before going crazy. Get LiveXLive, and listen to live streams of music festivals from all over the globe, hundreds of radio stations in every genre, and original episodic content and podcasts. You can also listen after the road-trip wraps up on your web browser or mobile device. Get a 1-year subscription at 58% off the usual price, for $19.99.
Culture Audio V1 Noise-Cancellation Bluetooth Headphones
Sometimes the best solution to the song selection problem is to just put on your headphones and play your own personal mix. But in any car, plane or train, you're going to mostly hear the rumble of the engine. That is, unless you get some noise-canceling headphones. These innovative wireless Bluetooth headphones feature 98% active noise-cancellation so you can enjoy your music the way it's meant to be heard. Get these powerful cans for 32% off the retail price at only $135.
SCOUT Max 10,000mAh Portable Charger
When you're away from home for any considerable amount of time, your devices run the risk of dying on you. Stay vigilant and keep your devices charged with this powerful portable charger. It's got a huge 10,000mAh battery and quick-charging USB port, and it plugs right into the wall outlet for recharging. Get it on sale for half-off at $39.99 and never go on another road-trip without portable power.
Prices are subject to change.