5 Natural Ways to Recover From Your Workouts
Hit The Gym And Then Hit Up These Refreshing Cool-downs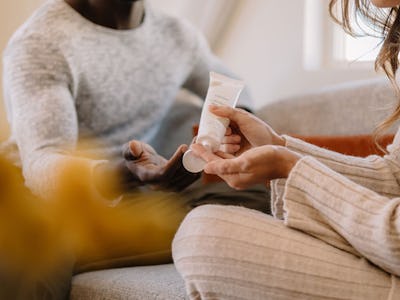 StackCommerce
After you hit the gym you probably just want to hit the sack. But you're sore and your muscles ache, and you wonder if working out is causing more harm than good. What you need is a good post-workout cool-down routine. Your body needs time to recover so you can get up tomorrow without any lingering pain. Here are some natural ways you can refresh your achy muscles after a good workout. Let's change it from "No pain, no gain" to "No pain, no problem".
Here's a hemp-infused cooling rub that soothes and relieves muscle pains and joint aches. It's made with 100% U.S. grown non-GMO hemp oil, which is known to help inflammatory and autoimmune diseases. It also includes chamomile and moisturizing aloe vera for a full refreshing cleanse. Another stress-reliever: knowing you can get it for 15% off the usual price.
Belmint Heated Shiatsu Kneading Massager
Nothing's better for stiff joints than a nice deep massage. But when you're aching you don't want to make an appointment and climb into the car, you want relief. With this heated shiatsu kneading massager, you can stay home and get an invigorating massage without the awkward small-talk. Use it on your back, hamstring, calf or feet — the U-shaped design is flexible and works on practically your entire body. Plus, at $45 it's less expensive than a single massage at the local masseuse.
Gainful Personalized Protein Powder Subscription: 30% Off First Shipment
It's tough to balance your diet and get the right nutrition. Everybody's body is unique, so there's no magic protein powder that works best for everyone. But there is a way to get your own personal protein powder that's perfect for you. Just fill out a short quiz and Gainful calculates the exact ratio of ingredients you need to reach your goals. With your own personalized protein powder reaching your fitness and weight loss goals will be so much simpler. Shipments start at $1.63 per serving, and with this deal, you'll get 30% off your first month's shipment.
Basic yoga mats are fine for stretches, but otherwise, they aren't too different from the floor. Here's a next-level full body massage mat that's designed to simulate chiropractic treatment, with precision-controlled air chambers that align your body to emulate yoga-style stretches. Get even greater benefits than from typical yoga practice with the four built-in functions that help relax your muscles, relieve fatigue, improve circulation and get rid of aches and pains. You can master the invigorating art of yoga for 26% off at $109.99.
Hammer NRG Deep Tissue Body Massager
Sometimes when you have a tightness in your back you don't have the luxury of just laying down on the floor and getting a massage. Especially at work or in traffic. Here's a portable deep tissue massager that works whenever you need it. It comes with 6 attachment heads and 4 modes for a customizable massage, and it's lightweight and cordless so you can take it anywhere. Get this body massager for 83% off the retail price for just $99.