This Company Is Changing What Women Understand About Their Own Fertility
Forever, fertility has more or less been a crapshoot, but not anymore.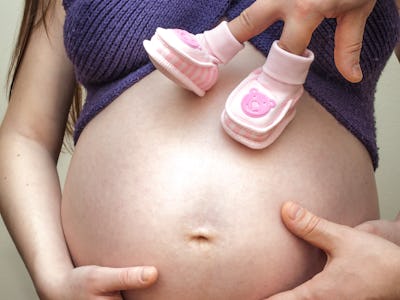 Unsplash / Dragos Gontariu
Since the dawn of time, there have been women who get pregnant without a second thought—and in some cases without even trying—and there have been women who have had to endure years of struggling to conceive. Somewhere in between are the women who talk about kids "someday" with no indication of whether or not someday will ever actually come. Beyond that there are women who just don't know what the future holds for them and for a lot of us, this is a source of existential anxiety.
Will I hit menopause at the same age my mother and aunt did? Is IVF something my body will respond to, should that day ever arrive? What about egg freezing? Women are having children later in life than ever before, getting married later and in general, starting and feeding careers before children are even on the mind. What about these mysterious symptoms—like irregular periods—that you've been experiencing without a diagnosis for years? That's where Modern Fertility steps in.
What Is It?
Modern Fertility is a hormone test you can order to your home or take to your local Quest Diagnostics so that you have a clearer picture of your reproductive future. Modern Fertility is not a test of whether or not you are able to conceive; it simply measures hormones that provide a more accurate prediction on when you'll experience the onset of menopause, how your egg count compares with the age for women your age, whether you're a good candidate for egg freezing or IVF, and it can give you a better understanding of PCOS or POI — both of which can effect how and when you conceive.
Armed with this information that you might not otherwise have, you are able to make better and more informed decisions about your reproductive future. Do you want to have kids but want to hold out for the right "someday?" Modern Fertility can help you get your ducks in a row for getting your eggs frozen.
What Markers Does Modern Fertility Look For?
Modern Fertility is the only at-home fertility test that does not require you to go off birth control. All Modern Fertility tests are fully customizable and if you are on birth control, Modern Fertitily tests for AMH (anti-mullerian hormone), known to be the most reliable marker for ovarian reserve. In short, this means that Modern Fertility will ask the right questions to figure out how many viable eggs you have left.
Armed with information on your egg quantity, you're able to make informed decisions on what to do with your remaining eggs—such as opting to pursue freezing. In addition to testing for AMH, Modern Fertility tests for FSH, follicle stimulating hormone and E2, Estradiol, both of which provide a better understanding of how many eggs a given person has available.
Testing for LH, luteinizing hormone, FT4 (free thyroxine), and TSH, thyroid-stimulating hormone, Modern Fertility is able to provide much-needed info on menstruation regularity so that your doctor is more readily able to diagnose PCOS (polycystic ovarian syndrome) and POI (primary ovarian insufficency).
From there, Modern Fertility also tests for PRL (prolactin) and T (testosterone), which will allow you to better understand how you might handle breastfeeding and can provide more neccesary info on your thyroid and more.
Sound like a lot of information? And not sure what to do with it? That's really where Modern Fertility shines. All tests are returned with physician notes and explanations. From there, you can take your results to your family doctor or OBGYN, so that they might better be able to explain or diagnose any chronic symptoms or you can use Modern Fertility's ultra-convenient service that matches you with a licensed fertility nurse that might better be able to advise your next steps.
What's more than that is that Modern Fertility provides a support for women that can be difficult to come by in what is otherwise pushed to be private and isolating. After you receive your tests results, you'll be elligible to subscribe to the weekly webinar in which you'll receive more ongoing information about your options and access to a community of women who are navigating similar experiences.
So How Much Does It Cost?
After you take the online quiz—which will aid in the customization of your test—you can purchase the full kit for $159. If you have an FSA or HSA, Modern Fertility is approved for use of both. All kits ship free. Compared to traditional fertility clinics and tests valued at over $1,500, Modern Fertility is among the most accessible ways to get necessary information your body.