This Tiny Robot Wants to Clean Your Home for You
You're too busy to come home after a long day of work and start cleaning the house. Let the robots do the dirty work—literally. And you can start with this vacuum.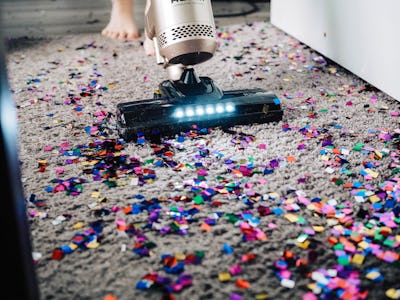 Unsplash / The Creative Exchange
Some people get a real kick out of cleaning their home on a regular basis. However, most of us call it a chore for a reason—because it's not the most exciting way to spend our time. Still, cleaning has to be done or else our homes could end up looking like submissions for a hoarding show. But if there was a way to get household tasks completed without having to personally do it yourself, would you be interested? If so, keep reading to learn how a robot could help clean your home.
A 2-in-1 vacuum robot
Now vacuum robots aren't necessarily new, but when they're innovative, that's something to talk about. Most of us know that the biggest draw for a vacuum robot is convenience. But what if there was one that went the extra mile? The Ecovacs Ozmo 610 2-in-1 vacuum is just that. Not only will it vacuum your home, but it mops at the same time.
What else can it do?
One of the best things about the Ecovacs robot vacuum is that not only does it clean and mop your floors but it also automatically recharges. The vacuum can offer 110 minutes of runtime between charges. Best of all, it comes with smart cleaning technology. And this means that your vacuum uses a systematic approach to your floors. Its back-and-forth motion ensures that no areas are missed. But it's smart enough to avoid bumping into items like furniture or decor.
The right tool for the job
Whether you're just trying to get into those hard to clean corners or are trying to get dried on food off the floor, the Ecovacs robot vacuum is up to the challenge. With four cleaning modes, there's a solution to your problem. For general, light cleaning opt for the "Auto" mode. "Edge" mode is perfect for cleaning those dirty edges along your walls or furniture. "Spot" is the best option when trying to remove dirt in a specific area and select "Max" for intense dirt and grime.
A step above with technology
Most of the features we mentioned can be considered fairly standard these days when we're talking about robot vacuums. But the Ecovacs 2-in-1 vacuum ups the ante with seamless integration with this packaged deal that comes with a Google Nest Hub for smart home technology.
But even without the Google Nest Hub, you can use Ecovacs' proprietary app that's designed specifically for managing your vacuum remotely. Switch between cleaning modes, or create a schedule so that the robot only cleans while you're away. The EcoVacs app works with Apple and Android devices.