6 Books You Have to Read Now That Game of Thrones  Is Over
Stop moping and start reading. You will feel better soon.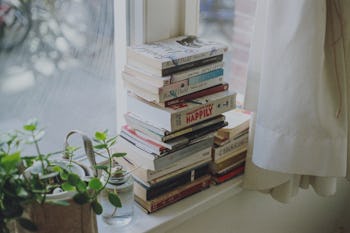 Unsplash / Florencia Viadana
It might feel, right now, like bleak desolation, an emptiness you can't fill. But there is a way to look at this — the fact that Game of Thrones is over — as a positive.
Think of all the time you just freed up.
If you take into consideration the time you spent prepping for GoT parties, discussing plot points and character transformation, and weighing in on Twitter, this empty place is worth probably ten hours a week.
That's enough time to read a book every week!
Try to move on. Fill that hole with something productive.
Here are 6 books that you can sink your teeth into, that will keep you turning pages, and that will make you forget — even if only for a few minutes at a time — how much you miss Jon Snow and them.
Sally Rooney, an amazingly talented writer from West Ireland, has the most interesting — and compelling — first-person point of view I've read in a long, long time.
She breaks something in the normal time-space continuum as you read. You are pulled into a present tense that can't exist. It's just a story of life in Dublin. Some people sleeping with each other. Misunderstandings. Weird marriages. Breaking friendships. That sort of thing. But damn it's hard to put down. And when you get to the end, you want to start over, just to get back into that timezone.
Her next novel — Normal People — was, no surprise, a New York Times Best Seller and long-listed for the Man Booker prize. This woman has a talent you want to keep an eye out for.
I can't remember the last time I counted days until a book came out. But I've been doing that with The Chain for months. If you haven't read any of McKinty's other's works, do that — immediately — to kill some time before this is released on July 9.
Start with The Cold, Cold Ground.) It's the first in his charming and brutal Sean Duffy series, set in Northern Ireland during The Troubles in the 80s.
The Chain is a thriller. It involves child abduction. It's terrifying. Or so I'm led to understand. I have not read it because I couldn't get an advanced copy. But both Don Winslow and Stephen King have been touting it's brilliance relentlessly on Twitter. And I'm already a huge fan of McKinty's work. So I'm going mad. Thus the counting of days.
I'll admit that I only recently discovered Lou Berney and am in the middle of his earlier novel The Long and Faraway Gone,, which won the Edgar, Anthony, Barry, Macavity, ALA, and Oklahoma Book awards a while back. That one? Damn. I promised you impossible-to-put-down books. That one is making it hard for me to get any writing done. Be grateful that I'm resisting the urge to go read right now, at least long enough to finish this.
November Road is a thriller set just after the JFK assassination. The protagonist — a mobbed up guy from New Orleans — has reason to believe he's a suspect and tries to run to Las Vegas. He meets a woman on the road, also trying to run. And you get the idea. They shouldn't. They do. Pages will be turned! (Jon Snow who?)
James Ellroy is back! His character from L.A., too. Dudley Smith and the whole mess of dirty, self-serving, crooked, in-search-of-some-brand-of-bent-justice cops from L.A.
This is a continuation of Ellroy's epic L.A. history. Terse and brutal. Unflinching. All that. You probably want to start at the beginning this series or at least watch the movie L.A. Confidential. And if you want characters who fall in love and live happily ever after, this is not your oeuvre. Ellroy describes himself as the Demon Dog of American literature. He isn't kidding.
Ellroy has been proclaimed by many as the genius of the mystery genre and one of America's greatest writers. He's been promising us a continuation of his dark history of the underbelly of L.A. for years. Here it is! Be ready, though. The dude can write and his worldview is harsh AF.
I have to include this one because George R. R. Martin deserves to be read. You saw his story interpreted by a lot of people. Now go to the source!
Everyone is in here, obviously. And you already have pretty faces to go with all the characters. Enjoy it in the original: The written word. There are five books! It will take you forever. Maybe they will have a new series for you to watch obsessively by the time you're finished.
Set 100 years before Game of Thrones, this is the prequel, written by George R. R. Martin, of story of Westeros. None of your favorite characters are born yet, of course. But this might serve as their origin story and it might givew you inside knowledge of what HBO is thinking about when it comes to the prequel programming they have in development. No one knows for sure what they are up to but didn't they get most of their ideas for the last one from Martin? Worth a look, no?