It's Been Raining Too Much. These Sneakers Are Waterproof (and Look Great, Too)
We know, you're tired of the rain—so are we. If you can't take another day of wearing heavy rainboots, it's time to swap them for something more stylish.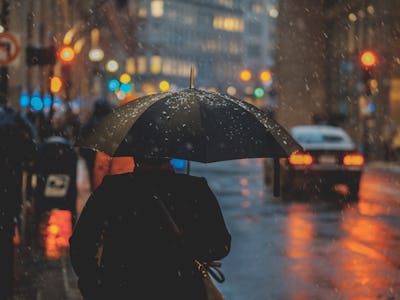 Unsplash / Osman Rana
Unless you truly live in a desert, it's been raining a lot lately. So much so that regular shoes haven't been able to stand up to the punishment. And if you're like a lot of us, you're tired of running around town in waterlogged shoes, desperately wishing that your socks weren't wet. So, if you've had enough of Mother Nature destroying your footwear, it might be time to upgrade to these bad boys.
Yes, it's actually possible to have waterproof sneakers, and Vessi Footwear has the answer. Instead of following tradition with a final waterproof coating that can eventually wear off, their Men's Cityscape sneakers feature a fully integrated waterproof knit upper that won't fade away over time. And that waterproof layer is also moisture wicking so sweaty feet are a thing of the past.
Why would I want sneakers instead of rain boots?
Rain boots can be heavy and aren't breathable. Unlike boots, the Vessi Cityscape sneakers feature micropores that are too small to allow water in, but big enough to allow sweat and heat to escape. And that means you'll feel more comfortable when you're wearing these sneakers all day.
What else makes these shoes special?
How about the fact that these shoes are vegan-friendly? More importantly, they're configured from sustainable materials so you can be confident that your fashion choices aren't negatively impacting the environment. The Vessi Cityscape Shoes are also ultra lightweight. Seriously, they weigh less than an iPhone—you can't get any lighter than that! They're also cozy with supportive soles and offer full stretch so you don't have to fight to get these sneakers on your feet.
Anything else?
The Vessi Men's Cityscape sneakers are available in five colors—one of which is a special limited edition color. In addition to being a stylish shoe, shopping with Vessi is also a breeze. Shipping is free and within the U.S. there's no charge for returns and exchanges. And you'll even get 30 days to decide if you want to make their shoes part of your permanent wardrobe.