Everything You Need to Take a Well-Planned Vacation
You deserve a vacation that doesn't come with stress.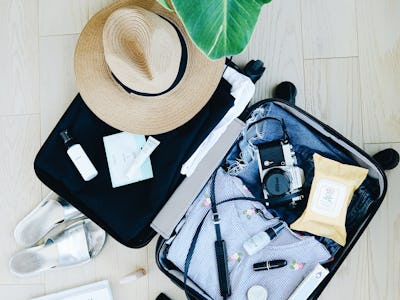 Unsplash / STIL
I'm a great packer. I have Excel spreadsheets for every kind of vacation from the mountains to camping to the beach and everything in between depending on the time of the year. Part of it is probably attributable to my years as a girl scout, but more likely I became this way because my mother was a notorious under-planner when it came to our vacations.
We'd get to the airport and our boarding passes would be mysteriously misplaced. We'd get to the beach and the sunscreen would be left at the hotel. So when I got old enough to pack for vacations myself, I thought of everything that my mom often forgot and prioritized being as organized as possible. Take it from a packing expert—and all the subsequent anxieties that made me this way—these are the things you need to pack well for any upcoming vacation.
So You Always Know Where Your Travel Documents Are
Why You Need It: If you're ever misplaced your passport at the gate, you know the sinking feeling of a vacation almost ruined. Never worry about where you put your passport again with this ultra-convenient, leather passport wallet with a space for everything you might need while traveling—specifically cash, your ID, credit card and passport. Like all leather, it will only get better with age and wear.
So You Don't Have To Stop To Readjust Your Luggage Wheels Every Few Feet
Why You Need It: Not all suitcases are created equally. As influencers become more and more present, luggage has quickly become a very strong status symbol, but that's not what this is about. You want luggage that works. You want luggage that has space for everything you need and you want to be able to have it as a carry-on. This innovative piece of luggage from G-RO has specially designed GRAVITYROLL™ WHEEL TECHNOLOGY that allows you to trek on any terrain without worrying about a wheel snag.
So You Get The Most Out Of Your Packing Space
Why You Need It: Traveling with shoes, make up, hair products, grooming products and clothes can quickly take up all the room in your pack—plus you have to unpack everything every time you want something on the bottom. With these nylon zipper pouches, you can have designated space for your underwear, shirts, pants and even your dirty laundry so that you're always organized and you never have to sit on your suitcase to zip it closed again.
So You Can Relax Like The Rich and Famous
Why You Need It: The best vacations often have a water element. If you're planning your next vacation on the water, don't go without first looking into Boatsetter. Available in over 600 locations, Boatsetter is the AirBnb of boat rentals and you can request a captain or operate it on your own. Insurance is included in all rentals.
So Your Feet Stay Comfy While You're On The Move
Why You Need It: I don't know about you, but when I travel, I'm already so tightly wound by everything else that I can't handle the prison of jeans or a well-thought out outfit. I'm looking for comfort and in an ideal world, that means wearing shoes that allow me to feel like I never left bed and give me the freedom of easily taking them on and off. These all-wool slip on shoes offer all of that and the breathability of wool allows this to be a good shoe for traveling in any weather.