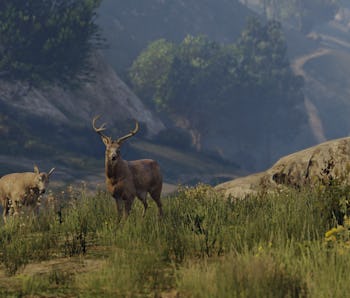 Science
A Wildlife Documentary on the Animals of 'Grand Theft Auto V'
Complete with vaguely British/Australian narrator.
Rockstar Games
San Andreas in Grand Theft Auto V is inhabited by thousands of animals that most players may not even see much of. To demonstrate just how deep the blockbuster 2013 game actually is, a few heroes have filmed and edited an entire nature documentary on the animals that roam the San Andreas countryside.
YouTube users 8-BIT BASTARD (great name) and Chaney555 created the 15-minute Onto the Land, a spoof documentary that sends up National Geographic. The exotic chanting and wind instruments are gold.
The A.I. of GTA V is deep but not scientifically accurate. Still, that's missing the point of this hilarious parody, which takes the incorrect but complicated intelligence of San Andreas fauna as scientific fact. "We're not professional wildlife researchers, we're still just idiots who play computer games. Enjoy it for what it is!" reads the video's description on YouTube.
This isn't the first time a project like this has been done before. The same team created Into the Deep, which is arguably more fascinating than the movie where Paul Walker (RIP) goes surfing.
According to Kotaku, the team spent six months researching and developing Onto the Land. What can inspired, ingenious, creative gamers with six months to spare do next?