Meet the Vitamins Designed to Give You What You Need
No two people are alike, so why should your vitamins be a one-size-fits-all?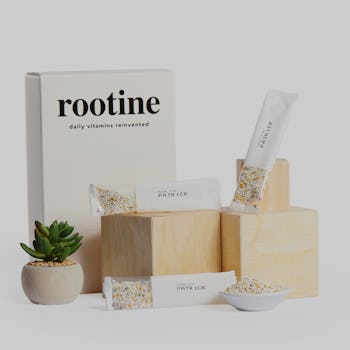 Rootine
With so many of us being too busy to watch our diets carefully, vitamins may be our best bet to get what we need for optimal health. And while there are entire aisles in your local drug store filled with every kind of vitamin you can imagine, it begs the question "are vitamins meant to be one size fits all"? From time to time you may even question if you're getting exactly what your body needs.
At the end of the day, commercially available vitamins are improperly dosed and mostly just filler. So why spend your hard earned dollars on vitamins that your body will get rid of anyway?
The Truth Is Requirements For Specific Nutrients Vary From Person To Person.
Rootine vitamins recognize that and they are on a mission to deliver the exact blend of the nutrients you need with no unnecessary fillers that waste your time and your money. For only $2.00 a day you can have vitamins that are tailor-made for you based on your lifestyle, diet, and your DNA.
When vitamins are developed for you based on your existing nutrient levels, you get exactly what you need and nothing you don't.
Rootine Delivers What Your Body Needs For Optimal Health — Without The Guesswork.
Your experience with Rootine DNA based vitamins starts with taking a brief quiz, where you answer questions about your lifestyle and daily habits. The next step is to take a DNA test (or send in the results of your DNA profile). Armed with your DNA profile results, Rootine creates a vitamin that is made specifically for you and it's delivered right to your door.
A Better Design For Better Results
You can rest easy and know that unlike other vitamins, Rootine vitamins are not horse pills. They are designed to be easy to swallow and work better with your body. Each vitamin pack consists of microbeads which can be swallowed or mixed with food or water. Moreover, microbeads allow for better absorption and they work on a time release, delivering nutrients to your body through the day.
Genetics, lifestyle, and diet not only play a part in our health and wellness but they are also the reason we may fall short. No two people are the same when it comes to nutrient deficits, so why look for a one size fits all answer? With Rootine DNA based vitamins, there's a better way.