Pokemon Fusion: Why Did a Website From 2010 Go Viral Again in Summer 2019?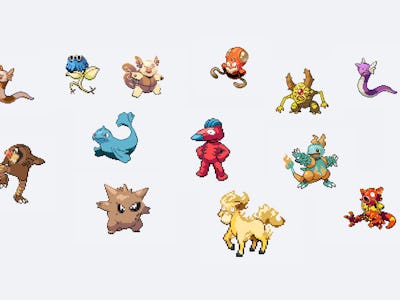 Pokemon Fusion / Danny Paez
Fusion is a staple ability in anime series like Dragon Ball Z and Yu-Gi-Oh!, where characters magically merge into one stronger being. So it was only a matter of time, then, before someone came up with a website like Pokémon Fusion, which lets fans of the Nintendo series create whatever fusions they want out of any two of the original 151 creatures. That time came, and went, in 2010.
So it was puzzling to see Twitter once again awash with hilarious, badass, and straight-up disturbing Pokémon amalgamations this week, many of them amassing thousands of likes and retweets. Drawing Pokémon mashups has long been a trend on art blog sites, like Tumblr and Deviantart, but Japan-based web developer Alex Onsager made fusing Pokémon as easy as clicking a button when he launched the site in 2010 (we reached out to Onsager for his take on what revived the tool he made in 2010, and will update if we hear back).
Pokémon Fusion has gone viral a few other times in recent memory.
Its first time in the internet spotlight was on May 2013, when it picked up so much traction on discussion forums, like Reddit, that Onsager wrote a blog post to explain how he made it. It then blew up again between August and September 2016, according to Google Trends data, not too long after the launch of Pokémon Go in July, 2016.
This means that it is now the third time Pokémon Fusion has won the hearts of the people across the web. In the past, Onsager has offered some theories about the source its enduring appeal.
"I think the biggest appeal to the site is that it's simple," he told Kotaku in 2013. "There is very clearly only one thing to do, and you simply press a button to see something new. I also think that Pokémon has a very wide appeal to both kids and adults, and a lot of people are familiar with at least the original 151. It definitely helps if you're familiar with the originals, so that you can appreciate the ridiculousness of the fused creations."
Of course, just because something may be timeless doesn't necessarily explain why something may be going viral. To explain the renewed interest in Pokémon Fusion, we'll have to dig a little deeper.
Pokémon Fusion: Why Is a 9 Year Old Site Going Viral?
While Inverse couldn't pinpoint a precise tweet or Reddit post that sparked this round of Pokémon Fusion popularity, it does appear to be a pretty consistent pattern that someone kicks it around any time Pokémon hype nears an all-time high.
Such an event happened pretty recently, when Nintendo revealed more gameplay footage for the upcoming Pokémon Sword and Shield installments at E3 2019. Since then, Google interest has been skyrocketing for the games. The boost in search traffic naturally increases the chances of someone stumbling upon the site again and tweeting out their creation.
This is exactly what happened when Pokémon Fusion re-gained the internet's attention for the first time around May 2013. That followed Nintendo's announcement of Pokémon X and Y that January and its release on October 12 of that year.
Google Trends data shows Onsager's site resurface around August and September of 2016, directly after Pokémon GO was released on iOS and Android on July 2016.
It seems like every time the internet is seized by Pokémon fever, Onsager website's emerges out of the ether once again to let Nintendo fans create their own Frankenstein creatures.
Pokémon Fusion: How It Works
Pokémon Fusion lets visitors create up to 11,325 unique Pokémon out of the 151 original creatures. Onsager told Kotaku that it took him about a week to automate the processes and create the website before releasing it on August 2010 with only 50 Pokémon.
His blog post explains that the script he wrote resizes the selected Pokémon's head to fit its new body, and then swaps the colors on the body to match the head. That required Onsager to cut out 151 Pokémon heads using the drawings available on Bulbapedia.
"I [made] a quick prototype, inputted the first three Pokémon, ran the script, and laughed out loud when I saw the results," he said back in 2013.
And it's still making people laugh out loud nearly ten years later.