These Are the Best Countertop Espresso Machines You Can Own at Home
You don't have to leave your house to enjoy good espresso.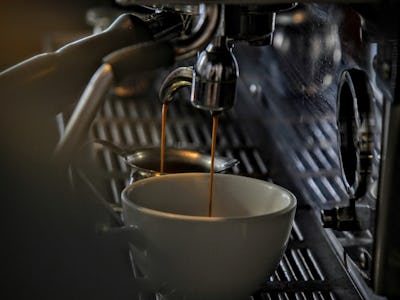 Unsplash / GC Libraries Creative Tech Lab
I've been drinking cappuccino since before I stopped breast feeding. It was one of my first words. One of my first recognizable desires. And I really haven't stopped drinking espresso since. Now cappucinos are reserved for the winter and special date nights at nice restaruants, but at home, I make a latte for myself every morning. My parents started the habit off strong with the espresso machine they were gifted for their wedding, but somewhere in the divorce, it got lost and each of my parents started purchasing their beverages outside of the home.
For years, I did the same. I'd run up a $30 a week coffee shop bill and I'd be late to everything from high school to my college 8AM classes to a coffee date at that same shop. Not only was I late, but I found my drink to be varying in quality and consistency and not always up to my exact preferences—and who can blame the overworked barista, I could have just made it myself all along.
So when I moved at the beginning of this year, I decided that my new home would be a new place of brewing espresso and so I did. After much research, these are the 3 countertop espresso machines that might work for you.
The One That Doesn't Require A Scale
Why We Picked It: An espresso machine doesn't have to be the size of a chest freezer to make high quality espresso. If you're new to brewing espresso, or just don't want to deal with the clutter of tampers, grinders and scales, this Nepresso machine is designed to take pre-measured and pre-ground pods and make the perfect shot of espresso in virtually no time at all.
The One That Can Make 2 Shots At A Time
Why We Picked It: This espresso machine doesn't make you choose between the convenience of pods and the customization of grinding yourself—you can do both. This one looks the most like the one my parents had as I was growing up, but with the added bonus of an automatic rinse cycle ensures that your machine stays in top working order and every shot of espresso is its freshest. Two included sieves allow you to make one or two shots at a time, depending on your drink and caffeine needs.
The One That Comes With A Legacy Name
Why We Picked It: For decades, De'Longhi has been one of the top tier makers of espresso machines in the world and for good reason too. This compact espresso machine can pull one or two shots at a time, is able to handle loose ground coffee or pods and also features a manual steam wand for all your milk steaming and frothing needs. The adjustable height of the cup stand allows you to brew any size cup at the touch of a button in just 40 seconds.