8 Seriously Good Deals on Life-Changing Products
These will totally help you live your best life.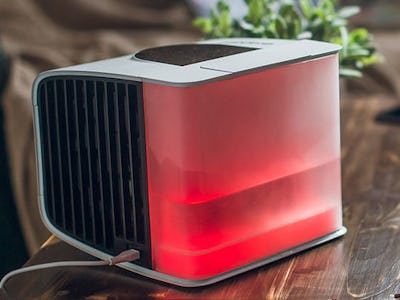 StackCommerce
Sometimes it's hard to make a positive change in your life. Going to the gym, learning a new language. Those things take time and commitment. Luckily for the rest of us, technology has us covered. Here are some cool deals that will improve your day-to-day life and all it takes from you is a simple click. If only learning French were that easy.
You can always use more temperature control in your personal space. This innovative little personal air conditioner will do the trick. It's a lot smarter than your big old AC unit because you can control it via your phone. Change the humidity level, fan speed, and even the light color without ever getting up. Control your environment for just $184.99.
It might have been a while since you last changed your sheets, so instead of a simple wash how about a total makeover? This luxurious sheet set includes a fitted sheet, flat sheet, & 2 pillowcases, all made using super-soft 100% Egyptian cotton. It's so comfy you'll be looking forward to bedtime all day, and the set's on sale for only $46.
Bring the party anywhere with this little speaker that packs an ultra-powerful punch. Unlike other bluetooth speakers, this one has BassUp technology that enhances the bass in real time, and it features a beat-driven light show to go along with it. You can even pair up two speakers together for a fully immerse music party. It lasts 12 hours on a single charge, so you'll be set until the sun comes up, and right now you can get one for only $59.99.
Just because it's raining outside doesn't mean you can't go on a nice bike ride. This indoor exercise machine let's you hook up your bike so you can use it anytime. The machine uses an extra-wide frame for a smooth and quiet ride, and it folds up easy for travel or storage. This is a must-have for any serious cyclist and it's readily affordable at just $76.99.
Here's an innovative pipe that will help you avoid painful throat and chest burn. It features a glass bowl with a freezable glycerin coil which cools the smoke by over 300 degrees, resulting in an ultra-smooth icy-cold toke. It's unlike anything you've experienced before and it's available for half-off at just $59.95.
Normal sponges just soak up bacteria and odors, but this innovative new sponge uses small silicone fingers to scrub and clean in those hard-to-reach places without wearing down or picking up odors. That way you can clean dishes and household surfaces for longer. It even works as a heat-resistant oven mitt, pet brush, and hair collector. All that in a single sponge, and it's only $20 for a 6-piece variety pack.
You can de-stress and chill out anytime with this sleek, compact little CBD vaporizer. It features a therapeutic blend that's been carefully formulated with hemp-derived CBD oil, and comes pre-filled and charged so you can use it right away. It also comes with a tasty berry flavor from organic fruit terpenes, so your relaxing puffs will be a real treat. This 200mg vape pen is available now for $26.99.