Want to Grill This Summer? Here Are 4 Options to Consider Buying
The summer is the perfect time to fire up the grill and make memories with your friends—unless your grill has seen better days. Upgrade your backyard BBQ with these finds.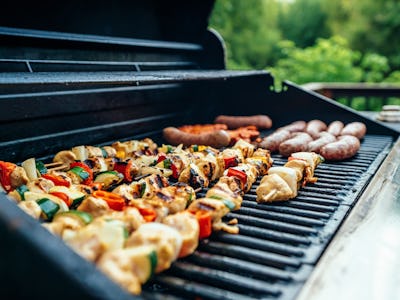 Unsplash / Evan Wise
Summer's here and that means that you're going to attend more than your fair share of cookouts. In some cases, you might even host one. And if you want to be the one in charge of grilling food, you better make sure you have the right grill for the job. If your current grill has seen better days or you're ready to buy your first one, these Amazon finds can help take your cookout to the next level.
Blackstone 36 inch Outdoor Flat Top Gas Grill Griddle Station
Do you consider yourself a grilling aficionado? If the answer is yes, then you need a serious grill-slash-griddle. The griddle increases the versatility of this product—allowing you to cook everything from eggs to pancakes to traditional grilled fare like burgers and hot dogs. Most importantly, the Blackstone griddle offers increased functionality thanks to the sideboard that features a removable cutting board, paper towel holder, and a built-in trash bag holder. And getting started with your grill is easier than ever thanks to the push to start technology.
Weber Original Kettle 22-Inch Grill
If you're a purist, you might be partial to the classic Weber grill. Whether it takes you back to memories of your family grilling during the summer or you just love to channel nostalgic images, you can't go wrong with the Weber Original Kettle 22-inch Grill. Cook up to 13 burgers at once with the ample grill space. Best of all, cleanup is a breeze with a one-touch system that quickly removes ash. And if you're wondering what to do with the lid while you're checking on your food, use the handy hook to keep it off the ground and clean.
George Foreman 15-Serving Indoor Outdoor Electric Grill
Maybe you live somewhere that doesn't allow charcoal grilling—like an apartment. But that doesn't mean that you need to miss out on the joy and flavors of a grilled meal. This indoor-outdoor grill from George Foreman is the perfect solution. Just like the small countertop versions made famous by the former heavyweight boxer, the indoor-outdoor electric grill offers the savory taste of a freshly grilled meal minus the mess of charcoal. A large 240 square inch grilling surface means that you can cook large batches of food at one time. But the biggest highlight is the removable stand that turns this grill into a table or countertop appliance if you don't have the space to leave this appliance as a freestanding grill.
If you believe that summers are best spent with road trips and time spent away from home, then you probably don't want to lug a conventional grill with you while you're traveling. The Uten portable barbecue grill is the perfect solution. It can simultaneously cook enough food for a party of three to five people while also folding up into a compact size that won't take up too much space in your car. The 12 airway vent ensures a quick start for your grill. And the easy remove baking net makes cleanup a breeze.