Build Your Own Personal Summer Oasis With These Six Deals
Paradise in your living room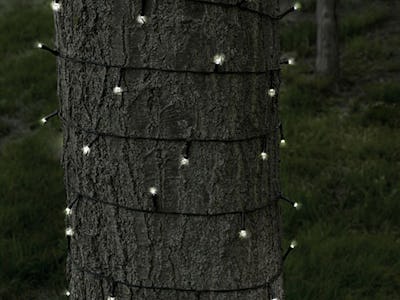 StackCommerce
Every summer is the chance to escape to paradise, but that means shelling out thousands on flights, hotels, and fancy scuba gear, right? Not so. Stop dreaming of a paradise far away and create your own little summer get-away in your back yard. That way instead of spending a week anxiously cramming as much relaxation time in between stressful airport trips you can simply walk outside and find yourself in your own calming, serene little paradise. Plus, it's way cheaper.
Pure Garden Solar LED String Lights 72ft 200 LED Lights
Here's a chic way to light up your magical summer nights. Hang up some hip string lights around the yard and add some chill ambiance to your evenings. The special thing about these particular string lights is they're solar — meaning no electricity. They charge during the sunny day and turn on automatically at dusk. A cool day-to-night transition trick for party guests, and right now they're 66% off at $19.99.
Stalwart Portable Hammock With Frame Stand & Carrying Bag
Nothing's better than an afternoon nap in a shaded hammock. But maybe after the nap, you'd like to move the hammock and set up your grill? Get this portable hammock and not only can you easily move it around the yard (no trees required!), but it even comes with a carrying bag so you can bring it on trips. Hammock on the beach? Sure, why not. This portable hammock is on sale now for 40% off at $65.
How about a little self-improvement to go with your relaxation? Practice your yoga and stretches in the wild, or just your backyard, with this antibacterial yoga mat. It's made of antibacterial ultra-fine microfiber so you don't have to choose between enjoying nature and cleanliness, and it comes with a handy carrying bag in case you want to do some yoga in the middle of a hike. Plus, it's only $19. If that doesn't bring you inner peace, I don't know what will.
Gardening is great, but a huge commitment for a beginner. This innovative little vertical garden is perfect for those looking to try raising veggies for the first time, as well as expert gardeners looking for a cool new toy. The stylish bamboo frame fits easily on a counter and with no maintenance or lighting required you can have homegrown micro-veggies all year long. Watching your EcoQube sprout brings a daily dose of zen to your den, and it's available now for a 16% discount.
Icebreaker Urban Portable Ice Maker: 2-Pack
Iced drinks are essential on a hot summer day, but the normal method of ice floating around in a dirty cooler raises eyebrows. Hard to enjoy your sip when you're worried gas station ice might send you home. The Icebreaker Urban is a water-tight, contained ice cube maker that serves with a simple twist. With its slim vertical design, it fits comfortably in any cooler and you can play the good host by dispensing ice cleanly and smoothly. That won't work with a normal ice cube tray. Get the Icebreaker Urban Portable Ice Maker: 2-Pack on sale for $86.
Gotham Steel Non-Stick Smokeless Stove Top Grill
Summer ain't summer without the occasional rainstorm. But just because it's wet outside doesn't mean you've stopped wanting barbecue. Here's a grill you can use right on your stovetop no matter whether it's electric, gas or propane, indoors or out. It's lightweight, features an easy-clean drip pan, and eliminates smoke and splattering so you don't have to worry about your entire place smelling like barbecue — just your food. It's usually $59.99 but with a 66% price-drop, you can get one for $19.99.
Prices are subject to change.