UK Now Uses More Zero-Carbon Energy Than Fossil Fuels After 10-Year Surge
It's the first time since the Industrial Revolution.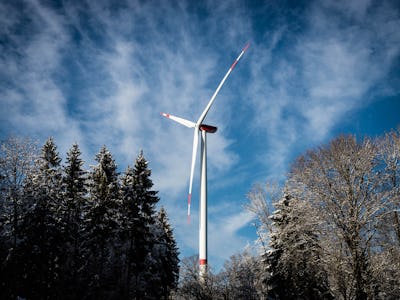 Unsplash / Ferdinand Stöhr
The United Kingdom reached a landmark point Friday, as it emerged the country will use more electricity from zero-carbon sources than fossil fuels in 2019. It's the first time fossil fuels have been in the minority since the Industrial Revolution, and highlights a strong surge in clean energy use over the past 10 years.
The figures show an incredible leap for cleaner forms of energy. Back in 2009, renewable energy sources accounted for just two percent of energy generation. That has since risen to 20 percent this year, 19 percent of which is wind energy. Zero-carbon sources as a whole, which also includes nuclear, has jumped from 23 percent in 2009 to 48 percent in 2019.
Coal Dropped From 30 Percent to Just 3 Percent
Over that same time period, fossil fuels have dropped dramatically. In 2009, they accounted for 76 percent of the country's electricity usage, but by this year it covered just 47 percent. Over that same time period, coal dropped from 30 percent to just three percent. The remaining five percent from this year's energy figures is biomass, which falls under neither fossil fuels nor zero-carbon.
John Pettigrew, CEO of the National Grid that manages the country's energy system, hailed the feat in a statement.
"The incredible progress that Britain has made in the past 10 years means we can now say 2019 will be the year zero carbon power beats fossil fuel-fired generation for the first time," Pettigrew said. "Having reached this landmark tipping point, the question is what are we doing today to get to net zero as quickly as possible?"
The U.K.'s Dramatic Jump: How It Happened
Part of the country's rapid shift to renewables has come from wind energy. The country represents 34 percent of all offshore wind installations in the world, more than any other country. It's a good way to make the most of its island geography, which leaves it isolated from mainland Europe.
It's been expanding its wind capacity at a rapid pace. In 2018, the country was the ninth-largest market for onshore wind energy, adding 589 megawatts in one year. But when it came to offshore wind energy installations, the country came second only to China, adding a staggering 1.3 gigawatts of capacity.
Some of the more notable wind installations that have sprung up include a 500-year-old cheese farm, which also gets energy from solar.
Another is the world's largest offshore wind farm in Scotland, designed to power nearly 20,000 homes: 
Over the past few months, the country has set several records. It recorded the greenest winter ever for energy usage. In May, it recorded its first two weeks (or "fortnight") of no coal-powered energy generation. Once the Fiddler's Ferry coal plant closes in March 2020, the country will only have five coal power plants left.
The U.K.'s Dramatic Jump: What Comes Next
The Guardian reports that the National Grid spends £1.3 billion ($1.65 billion) per year on ensuring the grid is ready for renewables. The belief is it will be ready for full zero-carbon before 2025, the same year the government is aiming to finish phasing out coal power stations.
The country has a long-term goal of reaching net zero carbon emissions by 2050. The opposition Labour Party is considering adopting a stricter goal of 2030. The Green Party has also criticized the government for setting the target while still planning projects like a new runway at Heathrow Airport.
While this year's milestone is commendable, there's still a long way to go before the country and world can reach zero emissions.