The Best Cookware for Glass Top Stoves
The right cookware can help maintain the longevity of your glass top stove.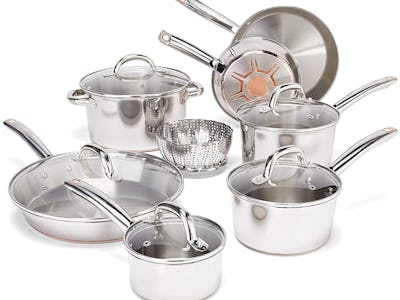 amazon
Some electric ranges have the ability to make any home chef cringe (looking at you electric coils). And while gas ranges were always the first choice for cooks everywhere, electric ranges have come a long way.
With its minimal, clean and streamlined look glass cooktops are becoming increasingly popular. The smooth flat design allows for better heat distribution and you won't mind the cleanup.
While the Stunning design kicks up the look of any kitchen, the very thing that contributes to it aesthetics is the same thing that should give you pause. Caring for your glass top stove and using the proper cookware will ensure that your range continues to look good for years to come, sparing you the expense of repairs or replacement.
If you're not sure what you need, we've put together a list of the best cookware for your glass top stove to help you out.
The T-Fal stainless steel with copper bottom is an excellent (and budget-friendly) choice. While The fiat bottoms are a great choice for heat conductivity, the fortified with copper base kicks the conductivity up a notch or two. This set is oven safe up to 400 degrees and its dishwasher safe so clean up is a breeze.
The Rachel Ray anodized aluminum is great for the cook who prefers a nonstick cooking surface. This particular set works well with glass tops stoves because the anodized aluminum works to distribute heat quickly and evenly. An array of color choices, rubberized handles, and tempered glass lids makes this a user favorite.
If you prefer nonstick cookware set for your glass cooktop, the Calphalon classic may be what you're looking for. This set is pretty great because the lids have strainer attachments and there are measuring marks on the insides of the pots. The Calphalon classic gives you the best of both worlds with anodized aluminum and stainless steel (on the handles).
Cuisinart Chef's Classic is yet another option for those who prefer to work with a nonstick surface. I can't say I blame you. Quick heating, no hot spots, and easy cleanup? Check, check and check.
The Duxtop whole-clad stainless steel induction ready premium cookware set looks like just stainless steel but there's a surprise inside. Sandwiched in between the stainless steel bottoms there is an aluminum core that quietly contributes to even heating. The Duxtop has drip-free pouring rims and stay-cool handles that are riveted to the pan. Freezer safe and oven safe, storing delicious leftovers couldn't be any easier.