The Highest Rated Hair Clippers to Cut Your Hair at Home
Get your time back and cut your own hair with these clippers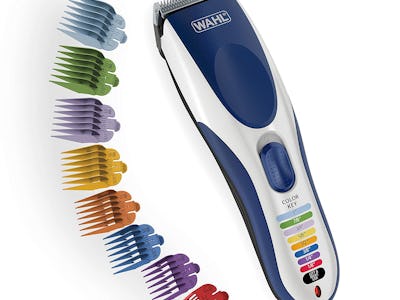 Amazon
Whether you're tired of paying way too much money to get your haircut and would like to do it yourself or for your kids, your best weapon is a solid set of hair clippers. While it's hardly an items that's considered "fun" to shop for, you'd be surprised just how many options you have available, and several may offer too much for what you need them for. If you're in the market for some solid hair clippers to cut your hair at home, check out some of the top rated options below.
If you've ever browsed through hair clippers before, you'll have undoubtedly seen the Wahl name before, even if you don't remember it. It's long been one of the best companies that offer quality hair clippers and is now celebrating its 100 year anniversary in 2019.
This particular set is versatile, offering both a corded and cordless option. This is great if you want to be able to use the clippers without a long cord in the way, but the corded option is fantastic if they haven't been charged enough to see you through your hair cut. Luckily, a single charge can last up to 90+ minutes, so they should be more than serviceable for most people.
Accessories include 8 attachment combs, oil, cleaning brush, instructions, red blade guard, and recharging transformer.
If you don't mind having a non-removable cord on your clippers and want to save some money, the Wall Clipper Elite Pro Kit is where it's at. Not only will you grab high-quality clippers from Wahl, but a ton of accessories that covers just about anything you need for the process.
With fine precision blades and secure-fit premium guards with stainless steel clips, this is a set of clippers that's both easy and safe to use.
Accessories include Shears / scissors, styling comb, cape / bib, blade oil, cleaning brush, handled storage case, drawstring pouch for guards, cord wrap, blade guard.
Wahl is very good at finding a very specific need for a specific type of person and creating a set of clippers to fulfill that need. It's also very good at creating well-rounded options that are great for everyone, and that's exactly what you'll find in the Wahl Color Pro Cordless Rechargable Hair Clippers.
This corded or cordless set of clippers may be best used for beginners who are not so familiar with cutting hair. To help remedy this, Wahl provides a nifty color-coded chart directly on the handle of the clippers so you know what clip guard to use. Combine this with a 60 minute runtime while running on the battery, a full kit of haircutting accessories with 21 pieces in total, and a ridiculously affordable price, and this is about as close as a "one size fits all" kit you can get.