'Galaxy Quest' Returns as Amazon Series
The cult hit will be recast because Snape has other shit to do.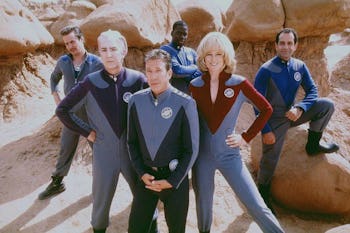 Entertainment Weekly
Galaxy Quest is back. Entertainment Weekly reports that Amazon Studios is developing a television script based on the 1999 film. It's not yet clear whether the star-studded cast (Tim Allen, Sigourney Weaver, Alan Rickman, and Sam Rockwell) will return for the reboot, but original co-writer Robert Gordon will write and executive produce the pilot. Director Dean Parisot and Executive Producers Mark Johnson and Melissa Bernstein will return to their same roles.
Galaxy Quest earned cult status and adoration for lovingly parodying sci-fi culture and fandom. It didn't just mock the tropes of nerdom, it embraced and indulged in them. A TV series should work because, as EW suggests, the extraterrestrial setting lends itself to nearly limitless new plotlines and adventures. The danger, however, comes in taking itself too seriously or trying too hard and self-consciously to be a parody. Galaxy Quest was a burst of fun and energy. Although promising, stretching it out across a TV season could drain it of its charm.