Want Sunglasses but Need a Prescription to See? Try These Fan-Favorites From Warby Parker
You know Warby Parker as the stylish eyewear retailer, but I bet you didn't think of them for sunglasses.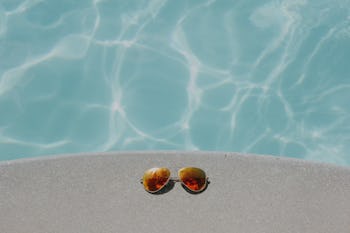 Unsplash / David Lezcano
Among my circles of people, I am frequently referred to as a "sunglass person." I had never stopped to consider myself as such, but at a young age, my mother was very vocal about her crow's feet wrinkles and instilled in me that the secret to lifelong youthful eyes was to do what she hadn't—wear sunglasses. Since I was old enough to have and keep track of my own sunglasses, they've been as much an essential as my wallet or keys when I leave the house.
I hadn't thought anything of it until I got into adulthood and found my friends frequently complaining of sun in their eyes and it being too bright out. I'd think to myself, "I don't notice anything like that"—forgetting that I was wearing sunglasses. And somewhere shortly thereafter, I became a sunglass evangelist. But not all sunglasses are created equally and not all expensive pairs of sunglasses are the best thing for you. If you're like me and struggle to see clearly without your prescription glasses, you might feel like it's a luxury you've lived too long without.
That's when I turn to you and remind you that Warby Parker, beloved and fashion forward eyewear brand, is among the best places to look for sunglasses that look good without robbing you of the convenience of sight. Below, you'll find 5 of my favorite pairs available on Warby Parker—many of which are available for free home try on before you commit.
For the No-Frills Guy
Why We Picked It: Not everyone is in to ostentatious mirrored lenses, vintage or abstract frames. Sometimes you just want sunglasses that will pair well with any outfit and not make any statement too loud. These Fletcher frames are available for at-home try on and come in 3 neutral colorways.
For the Vintage Type Guy
Why We Picked It: If you're going to spend a little bit of money on anything, it should be built to last. These Tilden frames are constructed from hypoallergenic stainless steel and feature hand-polished cellulose actetate with scratch resistant lenses. So not only will your eyes and investment be protected, but both the Acorn Tortoise and Lapis Crystal colorways will have you looking distinguished and thoughtful with your style choices.
For the Guy Who Likes To Be Different
Why We Picked It: Larger nose pads and slightly curved temples allow for an ultra roomy fit for people with higher cheek bones, wide faces or history of headaches to wear these Haskell frames with comfort. Made from high quality cellulose acetate and scratch resistant lenses, these sunglasses have crystal clear frames and green-grey lenses for a neutral look that isn't boring.
For the Guy Accostumed to Wearing Aviators
Why We Picked It: If you, like me, have defaulted on aviator frames for too long, the Fisher Wide frame is a perfect update to your beloved look. For a sleek look, the frames are constructed from hypoallergenic stainless steel and accented for added comfort with hand polished cellulose acetate on the ear rests. Opt for an all-black look or go for the gold with gradient blue lenses for a timeless aesthetic.
For the Guy Looking To Maintain A Little Mystery
Why We Picked It: Among my utmost priorities when shopping for a new pair of sunglasses is not buying anything that doesn't come with reflective lenses. I'm known for rolling my eyes—without much self-control—and it has gotten me into trouble my entire life. So when it comes to these Percey frames, they're not only stand out star because of their reflective lenses but also their robust colorway options. Like the above options, these sunglasses are made with high quality materials that will protect your eyes and your investment.