Sleep Infinitely Better on This Magical Mattress
After a long day, there's nothing more satisfying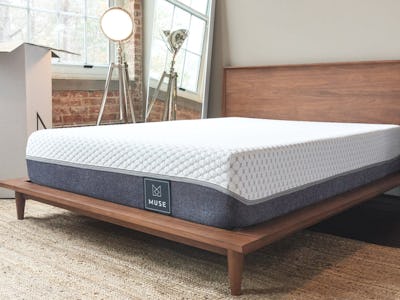 The Muse Mattress
After a long day, there's nothing more satisfying than sleeping on a comfy mattress. However, if you've spent any time on the internet at all, you're probably bombarded with mattress ads. There's so many to keep track of, and it's impossible to know which one is for you.
If you're someone who is constantly hot at night, then you should consider Muse. Their mattress is specifically made with cooling properties, which will keep you feeling refreshed during the night.
If you're wondering how exactly that works, Muse put together this mattresses after tons of research and a ton of trial and error about the right combination of materials to produce a mattress that can actually feel cool to the touch. The top layer of the mattress is a Washable Cooling Cover, which absorbs the heat in your room, while remaining cool itself. There are even studies that show that sleeping in a cooler temperature significantly improves the quality of your sleep, and helps reduce insomnia. So if you've never been one to like cold temperatures at night, it might be a good idea to try and see if it helps you get a good night's rest.
The Muse mattress feels like a combination of a memory foam mattress and one that's more firm, as it won't leave you feeling like you're sinking into the mattress. It's made from gel foam, which is cooling, instead of memory foam, which is warm. The gel foam improves air circulation and helps reduce the overall temperature while you're sleeping.
However, Muse knows that everyone is different, which is why they customize it for your individual needs. There is even a quiz you can take, where you'll answer questions about whether you're a light or heavy sleeper, a side or stomach sleeper, and more, and they will select the appropriate mattress for you, leaving the guessing out of this equation. 
The Muse mattress costs between $650 for a Twin size mattress and $1,100 for a California King, and they come in soft, medium or firm.