These New Pet Products Will Change Your Life
Let's get those tails wagging.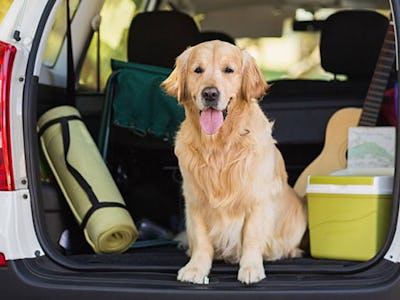 StackCommerce
When you want to improve your life you treat yourself to the latest cool gadgets technology has to offer, but how do you improve your pet's life? Sometimes you've got to do more than throw them a literal bone. Pet gear has evolved a lot since the days of catnip and chew toys, so it's time you should check out the newest pet gear and help your dog have its day.
Take your pup with you without worrying about muddy paws or loose fur. This cargo seat cover is waterproof and provides a universal fit for most standard size SUVs, so you don't have to choose between keeping a clean ride and hanging out with your canine buds.
The cover is made with machine-washable for long-term use. It usually runs $49.99 but the Inverse Shop has it now for just $29 — a 41% discount.
CBD oils don't help just people — research has shown that dogs can also enjoy the benefits. If your dog needs help with anxiety, arthritis, or painful medical conditions; this specially-designed CBD oil can help. It's non-toxic, 100% all-natural, and most importantly to your dog, bacon-flavored.
This CDB oil is formulated specifically for large dogs and sells for $49.99 regularly, but you can get it 36% off from the Inverse Shop at $31.99.
Great way to carry your pet around, or best-ever fashion accessory? Why not both? This pet travel carrier lets you keep your furry friend close and secure so you don't lose track of them whether you're in the neighborhood, the wilderness, or a busy airport. Take your dog for a walk, literally.
You can get the Large Pet Travel Carrier for its regular price of $39.99, or you can go to the Inverse Shop to save 44% and get it for $22.
Sunset CBD Pet Shampoo & Conditioner
A clean pet is a happy pet and an even happier owner. Isn't your pet overdue for a good scrub? Sideline the standard pet shampoo from the store and check out this innovative 5-in-1 CBD Pet Shampoo and Conditioner. Its unique formula conditions and relieves itching and dry skin, while also delivering the anti-inflammatory and soothing properties of CBD.
Green tea, lavender and rosemary extracts give your pet a healthy coat. Sunset CBD Pet Shampoo & Conditioner is $29.99 usually, but the Inverse Store has it for 26% less at just $22.