This Organic Coffee Is Selling Out Everywhere
Even if you love coffee, you might hate the crash that comes when the caffeine wears off. If you're tired of this constant crash, it's time to give this nootropic coffee a try.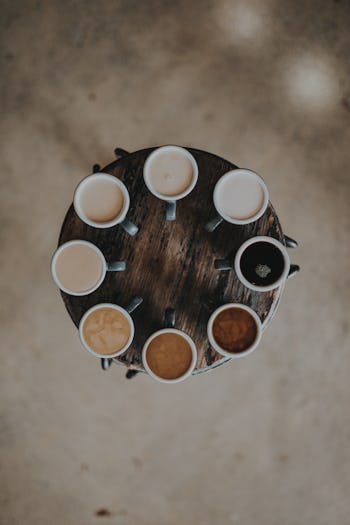 Unsplash / Nathan Dumlao
For most of us, we can't really start our day without a good cup of coffee. There's something about that rich flavor and aroma that takes us from stumbling bleary-eyed around the house to alert and ready to face the day. But what if you could take your coffee to the next level? While you can certainly get by with a standard cup of coffee from your favorite shop or the grocery aisle, more people are turning to nootropic coffee. These are coffees that help to enhance function or mood. And in the case of this specific coffee, it's so popular that it's selling out as quickly as it's replenished.
In terms of nootropic coffees, Kimera Koffee is one of the most popular options that you'll find on the market. The brand prides itself on its rigorous processes for selecting its nootropic ingredients as well as growing, roasting, and preparing the beans—resulting in a better, smoother, experience.
What makes nootropic coffee different from regular coffees?
With your average cup 'o Joe, no matter how strong it is, at some point, you crash. The coffee high wears off, and you're left with low energy. This can impact your ability to focus and perform or in many cases, make you feel cranky and tired. Nootropic coffee can contain select ingredients that help to maintain not just energy but your mood. So, instead of the highs and lows of standard coffee, you're kept in balance.
The Nootropics
There are a variety of options when it comes to nootropics. But for Kimera Coffee, it's a balanced blend of six ingredients that has loyal fans coming back for more. Alpha GPC improves focus and increases your power output. Taurine reduces fatigue while increasing fat metabolization. L-Theanine helps to control anxiety while improving sleep patterns and fighting cholesterol. DMAE improves mental performance and energy while also supporting red blood cell health. The Ginko Biloba is a multifunctional ingredient that improves circulation and acts as an anti-inflammatory. And finally, L-Glutamine is an amino acid that can improve protein metabolism.
The Coffee
No matter which style of coffee you choose from Kimera, they all feature organic beans grown in the Dominican Republic and contain the nootropic benefits that led to their popularity. Choose between K-cup and ground bean styles. For the ground coffee choose between 12-ounce and five-pound bags. Their roasts range from original to dark and amber. But if you don't care for the taste of "traditional" coffee, opt for their Phase 1 Peaberry coffee in either original or amber roast. These types of coffee are crafted solely from the peaberry beans that result in a sweeter and smoother taste.
Good to know
All of the bagged coffee is packaged using Nitro Flush, a process by which oxygen is purged from the bag so that the coffee is as fresh as when it was packaged. With the exception of the K-Cup option, Kimera coffee can be used with drip, french press, espresso, and aeropress. Their coffee is vegan-friendly and although not certified organic, doesn't use any pesticides, herbicides, insecticides or fungicides.