Want an Espresso Maker? We've Got 3 You Need to Consider
Make the shot--or drink--of your dreams without going further than your front door.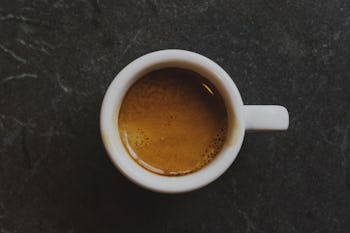 Unsplash / Matt Hoffman
If you asked me even a year ago how I like my coffee without skipping a beat, I'd say "from a coffee shop." And that's all there was to it. I had found a couple of coffee shops that made the kind of coffee I'd wake up in the morning hankering for—and if you knew me at all, you'd know that I can't do anything unless I've carefully laid out a reward system. So, if I have to wake up in the morning, the least I could do for myself was have something to look forward to. For years, that was the only way I was able to get myself out the door.
Then, this year I moved to a block with a coffee shop on the corner and like all of life's great ironies, I started making my lattes at home and subsequently converted swathes of people to do the same. If you're considering switching for coffee shop brewed espresso to home pulled espresso shots, consider opting for one of these 3 world class counter top espresso machines.
The Workhorse Machine
Why We Picked It: When it comes to crafting a great shot of espresso, there is so much more to it than measuring the proper amount. A well brewed shot comes from the right grind well-tamped and then must be brewed at the right temperature. If you're not well-versed in this particular art, the Breville Barista Express Machine does all the hardwork for you. All the dials and settings are intuitive and easy to use so all you have to do is set it to your preference and hands-free espresso is at your finger tips. Includes a grind size dial, digital temperature control, built in grinder that empties directly into the funnel, as well as a milk frother.
The Machine That Doesn't Limit You To Just Espresso
Why We Picked It: As mentioned above, there is more that goes into brewing the proper espresso than just having a machine and beans. If you want to brew at home, but you don't want to wrestle with that daily, this Nespresso CitiZ Esppreso Machine by Breville shortcuts it for you without a compromise in quality. Like many other home coffee machines, this machine takes single serving sized pods and allows you to adjust the folding cup tray for espresso or regular sized coffee cups.
The Travel Friendly Espresso Maker That Won't Monoplize Your Counter Space
Why We Picked It: Not everyone lives somewhere that allows for a bulky appliance that stays put. If this is you, you might be wondering how you might be able to brew the espresso of your dreams without sacrificing counterspace. The AeroPress is a fan favorite of travelers, campers and minimalists alike, and I can say from personal experience, it makes a mean cup of joe. I'm a bit of a snob and if I don't like a cup of coffee, it's very difficult for me to finish it. But the AeroPress pulls a shot of espresso and even a regular sized cup of coffee as fast as you can boil water and unlike similar french press options, the included filters give you a grit-free beverage you will be sure to love.