'Thank You Ashley Madison' TV Show Could Make Cheating Entertaining
If it can avoid being a 'Weeds' ripoff.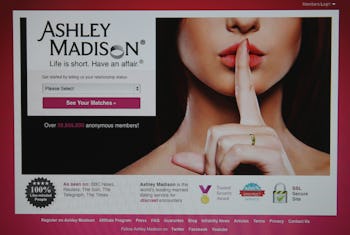 Carl Court/Getty Images
Ashley Madison just keeps making headlines. Amid the hacking scandal, someone is looking to cash in with plans for a TV show, according to The Hollywood Reporter. Tentatively titled Thank You Ashley Madison, the show will center around a "good mother" who launches the site (Noel Biderman apparently wasn't a compelling enough subject) to support her family…because apparently producers Steven Marrs and Courtney Hazlett have never heard of Weeds.
The pitch is pretty tepid. Again, Weeds did it but with selling marijuana, and Breaking Bad basically did as well, but that was to pay cancer bills and it was about fucking meth. The intrigue lies, of course, in what Ashley Madison actually is: a cheating site. Hazlett elaborates: "There are a lot of TV shows doing a great job of presenting marriage storylines in new ways, but what we're positing here is, what if there is a third lane to run in and what if you were honest about it?"
Maybe the protagonist launches Ashley Madison to cover up her own infidelity. Maybe she does it to give her husband an outlet, thinking he's fooling her when he's not. Infidelity is not foreign to television (hey, Mad Men), but it's typically a destructive element. Thank You Ashley Madison, as the title suggests, could promote cheating as a positive family-builder. It might be a bit non-traditional and sleazy, but so was Ashley Madison.