Upgrade Your Patio to Total Adult Status This Summer
Get a new deck chair and turn that space into your happy place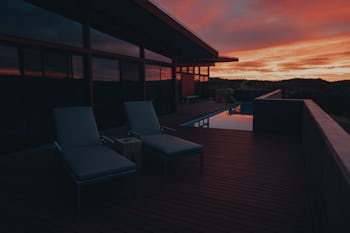 Unsplash / Roberto Nickson
It's right outside your door. It's got a view of the place you chose to live. Make it yours!
Deck furniture can seem like a low priority compared to a new bed or fridge. But there is something primal about sitting outside your dwelling and feeling the world move past the spot of the earth you have chosen to live, even for just a minute.
What's furnishing yours? A couch so trashed you don't dare sit in it? A chair you inherited but don't love? Nothing?
Invest in something that makes that space habitable and maybe you won't need to go out to dinner or to your local pub to get out for a minute. Maybe you can just sit out there, sip your self-made cocktails, and enjoy your own neighborhood.
Here are six options that will reclaim your outdoor territory.
Sink into this fantastic rocking chair, sip your iced tea, and nod to the neighbors as you rock yourself into relaxation.
Not a hard seat, like so many rocking chairs. No need to sit entirely upright. This is lay-back-and-enjoy-the evening seating, right here. It's made in Georgia where porch-sitting is an art.
Starting to feel like maybe a nap, in this chair, would be welcome? Totally. Thought you might want to add a cup holder (made especially for this chair) so you don't end up spilling that iced tea all over yourself.
Want people to hang out, for hours, on your deck? Put a fire in the middle of the group. It keeps the bugs away, brings the people in, and gives you a place to roast marshmallows.
This bronze wood-burning fire bowl—excuse us, cauldron— has all the old-world charm you want in a fire container. And it will keep that blaze contained. It's perfectly sized for a deck and has a heavy duty spark cover to minimize the hazards.
Short on space? Got a beam or tree overhead? Here you go. Sit down in this. With the sort of movement you get from a hammock but with none of the lying down and never getting up again. Sit, sip, chat.
This will pack up easily to store through the winter. You can get several, in different color, and make your deck a party spot where everyone gets relaxed and comfy.
The Adirondack chair is a porch classic for excellent reasons. Slide into it and it's startlingly comfortable for a chair without cushions. And that means, you can leave it outside without fussing over it. This one, in particular, requires no stress because it's made of a synthetic that will survive outside all year long.
Did it just rain? Wipe it off and sit down. Has it been snowing recently? Brush it off and sit. This is what you want in outdoor furniture. A chair that not only looks great but that's there, ready for you to sit in it, without any humans having to labor for that moment.
This one has a slide-out ottoman, too. So there is no need to buy an extra piece.
This thing looks complicated. But once you are in it, all complications slither away as you find you can just relax, suspended in air.
There's a place for your cocktail. A place for your feet. A place for your arms. And you don't have to do a thing but lay back and sway, ever so slightly, as your troubles melt away.
Yes, we are talking about a chair. But it's a chair with a happy ending. Get one.
Maybe your outdoor scene calls for something more along the lines of carry-it-there-and-sit-in-it seating? You share the deck. Your deck is a yard. Or you just need additional seating sometimes on your deck.
There is a reason this chair style has survived decades of American outdoor living. It's durable, inexpensive, comfortable, and portable.
Does that sound like what you need? Stock up! These are a great price.