6Islands Creates a Tropical Shared Workspace for Digital Nomads
Paradise isn't as expensive as you think, but logistics are never not an issue.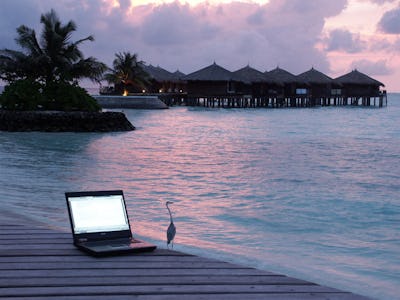 Johann Jenson isn't running a club or a conference or a college, but 6Islands, his brainchild, borrows elements from all of the above. The pseudo-tour group is now taking applications for its program, which will shepherd 100 "entrepreneurs" — the site says working for others is permissible so this seems to speak to a mindset not a reality — to some of the most beautiful islands on earth, supplying the digital hookups needed to keep everyone plugged in on Lamu, Santorini, and Koh Tao. Consider this the upscale, tropical answer to Remote Year. The work from wherever space is blowing up.
Jenson is not a particularly well known entrepreneur, but he's a bit higher profile in Africa thanks to SleepOut, a sort of AirBnB accommodation-finding engine for a continent that hasn't exactly embraced Brian Chesky's service. He is an outspoken proponent of the digital nomad movement (if we dare call it that) and puts a heavy emphasis on the idea that one can have one's coconuts and get work done too. "No complicated logistics," the 6Islands site claims, "we do everything."
But it isn't exactly that simple. In order to put oneself in a position to allow 6Islands to do everything, one must apply. That process will presumably not be transparent, but the group built out of it is intended to be "very multicultural" and consist of people "culled from various sectors." Predictably, the biggest pre-requisite is the ability to foot the bill, which includes a $4,000 non-refundable deposit and between $1,500 and $2,500 a month. That's not a crazy amount of money to cover accommodation, an office, a workspace, and a daily lunch. It's especially impressive in light of the guaranteed "barefoot walking distance to the beach," which is a fairly inexact measure, but a nice sentiment.
Whether or not you wish to join a hundred or so upwardly mobile and actually mobile entrepreneurial types for several months of sunny hard work or not, 6Islands — like Remote Year — serves to illustrate that it might be cheaper living in paradise than your apartment. It almost certainly is if you live in San Francisco.