Where to Find Hot Spots for the 'Fortnite' Week 6 Challenge
Essential tips for searching chests and ammo boxes, along with getting eliminations.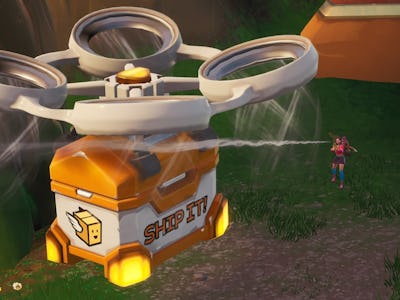 Epic Games
Hot Spots are a new feature to Fortnite: Battle Royale added to the game as part of the version 9.10 update in May, offering players a chance to score great loot first thing in a match, but rather than the Loot Carriers one Week 4 challenge focused on, a new three-stage set of challenges in Week 6 has players search chests, look for ammo boxes, and get kills at these special locations.
Stage 1: Search chests at a Hot Spot
Stage 2: Search ammo boxes at a Hot Spot
Stage 3: Eliminations at a Hot Spot
Week 6 only just began Thursday morning, and even though all seven challenges are straightforward, like "deal damage with SMGs to opponents," the three stages focusing on Hot Spots requires knowledge of this new mechanic.
How does one find a Hot Spot in Fortnite? Look no further than the version 9.10 patch notes for easy clarification. Just check the map for named locations at the start of the match written in gold text rather than white or black.
"Every match, select named locations will be marked in gold text on the map," the 9.10 update patch notes say. "These Hot Spots represent the presence of Loot Carriers. Shoot down the carriers for additional high-quality weapons." Hot Spots trigger at random, and you'll always be able to see one or two of them on the map at the start of each match.
They're called "Hot Spots" because many players will wind up landing at these locations even if they're less-trafficked places like Haunted Hills or Happy Hamlet. Therefore, it might take several different matches to complete each of these steps unless you luck out and find several chests. We suggest shooting down a few Loot Carriers first to get good enough weapons that you can defend yourself and then going for the chests or ammo boxes. This strategy becomes much more important for getting eliminations.
In all cases, it's best to complete all three stages in Solos. (You don't want to compete with teammates for chests.)
According to the in-game countdown that comes with this season's battle pass, Season 9 is scheduled to end on July 23, so there's still plenty of time to complete this and other challenges before Season 10 arrives.