Celebrate the Return of Woody & Buzz With Your Very Own Toy Story Art
These limited edition giclée prints let you capture the magic of 'Toy Story'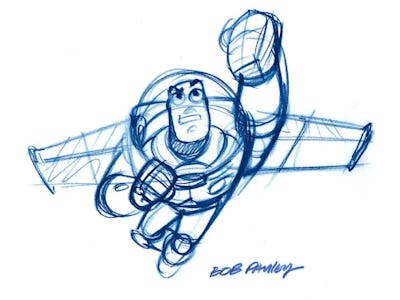 shopDisney.com
Contrary to popular opinion, computers don't make animated movies like Toy Story. People do. While many of the magical animated films from your childhood might rely on computer animation, they still came together thanks to the combined efforts of artists, actors, editors, animators, and technical directors. Real people are behind everything that gets created at Pixar Animation Studio, and they breath life into everything Pixar creates. So while animated films are technically complex to make, it's important to remember that they all begin with an idea, and that idea comes to life by an artist putting pencil to paper.
The effort that goes into creating complex characters in films like Disney's Toy Story has shaped not only our childhoods, but also future generations. And with the release of Toy Story 4, there's a sentimental feeling that accompanies experiencing these wonderful films. So if you want to capture the joy of the Toy Story films in your very own home, then these framed Toy Story art Giclée prints are for you.
In one of Toy Story's most iconic scenes, Woody takes great pleasure in challenging Buzz Lightyear's boastful claims of being a "Space Hero." This moment has been captured in giclée print titled, "You're Not a Space Hero." The print was created especially for Walt Disney World Resort and Disneyland Resort. This amazing Toy Story art is available on paper or canvas in a variety of formats and sizes. Like all Disney products, the magic is in the details.
This sublime, limited edition sketch of Space Ranger Buzz Lightyear by Pixar's Bob Pauley has been digitally reproduced on archival paper which is hand-numbered and signed by the artist. It's part of the Pixar Art Collection, which is the first time a coordinated assortment of Pixar concept art has been released, in order to celebrate each milestone film release in Pixar's history. The pieces were hand-picked by a select team at Pixar and represent a wide range of media, from marker to pastels to digital creation. It comes ready to hang in a natural finish wood frame, and includes a certificate of authenticity.
This brilliant giclée highlights the relationship between Toy Story's heroic pair of fearless leaders, Buzz Lightyear and Sheriff Woody. Together, they're pictured in this stately portrait by artist Darren Wilson. Wilson was a featured artist at the 2017 Epcot International Festival of the Arts. His Toy Story art, "Buzz & Woody," is available either framed or unframed, as well as, in a variety of different formats and sizes to suit your tastes and needs.
Relive the magic of Toy Story with this beautiful canvas featuring Buzz Lightyear, Sheriff Woody, and the rest of Andy's treasured toys. This piece was created by artist Tim Rogerson, and is part of the "Treasures on Canvas Collection." The Toy Story art comes gallery wrapped, which means your vibrant piece of art arrives ready to hang. "The Original Toys" was only printed 1,500 times, so it's a limited edition piece of art that comes with a certificate of authenticity.
Renowned artist Noah uses western style sepia tones in ''Round Up Gang,'' capturing the memorable Toy Story 2 scene in which Sheriff Woody, Jessie, and Bullseye go for a fun spin on an old record player. Noah was also a featured artist at the 2017 Epcot International Festival of the Arts. It comes with a pre-cut double mat and includes a wood frame and plexiglass.