Vessi's Newest Waterproof Shoes Will Keep Your Feet Dry All Summer Long
These lightweight knit sneakers will be your go-to shoes for any occasion. Pre-order yours today.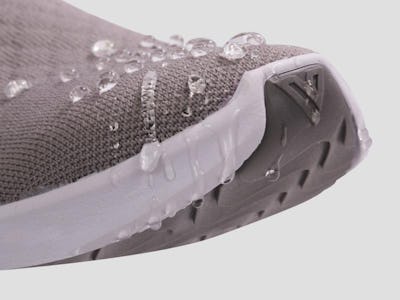 Vessi Footwear
A lot of people say knit sneakers are the perfect shoes for summer, and it's not hard to understand why. Knit sneakers give you all the comfort and style of a traditional sneaker, but they're lighter and more breathable. The only problem is that most of them soak up water like a sponge, leaving your feet completely waterlogged any time you get caught in a summer shower. However, it doesn't have to be this way. And with Vessi newest waterproof shoes, The Everyday & the Skyline, it's not.
Launched via Kickstarter back in 2017, Vessi Footwear makes knit sneakers that are stylish, versatile, and 100 percent waterproof thanks to a proprietary high-tech material they call Flash Knit.
Flash Knit isn't just a cool name dreamed up by somebody in the Vessi Footwear marketing department. It's stretchy woven moisture-wicking fabric made up of three distinct layers. The outer layer is a special blend of yarns engineered to stretch and huge the contours of your feet. The middle layer is a waterproof nano-filtering membrane, which has millions of tiny holes big enough for the moisture generated by your feet to escape, but too small external liquids to get in. The inner layer is soft, stretchy, form-fitting, and moisture wicking.
Put these three layers together and you've got a shoe that protects your feet from the elements like a high-end hiking boot while providing the lightweight breathability of a knit sneakers. In fact, Vessi's Flash Knit fabric is so breathable, you can go sockless all summer without worrying about nasty odors.
Vessi's flagship sneaker is the CityScape, which was first launched on Kickstarter back in 2017. At the time Vessi was hoping to raise $20,000, which just enough money to get production going. However, the CityScape was so brilliant, they ended up raising $1.026 million. And now Vessi is adding two new styles to their collection. They're available for pre-order, and are scheduled to begin shipping in next month (July 2019)
Whereas the CityScape was specifically designed for more active lifestyles, The Everyday is intended to be an everyday "lifestyle casual" shoe. It features a taller lace cage than the CityScape for a little extra support, but is made with lighter, stretchier Flash Knit for maximum flexibility. Available in three different colorways, the Everyday is currently available for pre-order and scheduled to ship in July 2019.
The Skyline, Vessi's other new offering, has the same lateral support as the Everyday, but it ditches the laces in favor of a slip-on look. It was designed for those who want a comfortable athletic shoe with maximum convenience. Available in two colorways, the Skyline is currently available for pre-order and scheduled to ship in July 2019.
Designed with medium support specifically for people who are more active and athletic, Vessi's original the CityScape is still available in limited colors and sizes. Made with a medium stretch 100-percent waterproof Flash Knit fabric that provides slightly more insulation for all-season use, the CityScape hugs and contours your foot like a sock. And with a soft-gel heel for maximum cushion and flexibility, it's also ultra-light.